01-04-2009 | Original Paper | Uitgave 2/2009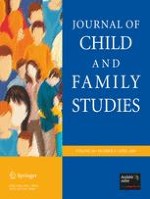 Associations Between Family Environment, Parenting Practices, and Executive Functioning of Children with and Without ADHD
Tijdschrift:
Auteurs:

Valarie M. Schroeder, Michelle L. Kelley
Abstract
We examined the relationships between executive functioning, family environment, and parenting practices in children diagnosed with ADHD as compared to children without ADHD. Participants were parents (
N
= 134) of 6- to 12-year-old ADHD and non-ADHD-diagnosed children. Compared to the control group, parents of children diagnosed with ADHD reported their children as exhibiting greater problems with behavioral control and metacognitive abilities, and described their family environments as less organized and higher in family conflict. Family environment and parenting practices were not correlated with behavioral control or metacognitive abilities in children with ADHD. In children without ADHD, higher levels of family cohesion, organization, and expressiveness, and lower levels of family conflict, were significantly correlated with greater behavioral control. Higher levels of family cohesion and organization were significantly and positively associated with regulation of metacognitive abilities in children without ADHD. In general, aspects of the family environment and parental limit setting appear to be associated with the development of executive functions in children not diagnosed with ADHD; however, family environment and parenting practices were not associated with executive functions in children diagnosed with ADHD.