31-03-2016 | Original Article | Uitgave 2/2017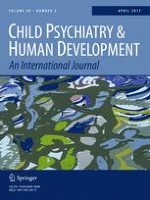 Association of Reactive–Proactive Aggression and Anxiety Sensitivity with Internalizing and Externalizing Symptoms in Children with Attention-Deficit/Hyperactivity Disorder
Tijdschrift:
Auteurs:

Ayhan Bilgiç, Ali Evren Tufan, Savaş Yılmaz, Özlem Özcan, Sevgi Özmen, Didem Öztop, Serhat Türkoğlu, Ömer Faruk Akça, Ahmet Yar, Ümit Işık, Rukiye Çolak Sivri, Hatice Polat, Ayşe Irmak, Yunus Emre Dönmez, Pelin Çon Bayhan, Ömer Uçur, Mehmet Akif Cansız, Uğur Savcı
Belangrijke opmerkingen
The association between reactive and proactive aggression, AS, anxiety, depression, and parent-rated ADHD and DBD scores were examined using SEM analytic strategy. The models were significant with the total score from the childhood anxiety sensitivity index (CASI). Subsequent testing with the individual CASI subscales in the models were all not significant and led to poor fit indices.
Abstract
This study evaluates the associations among the symptoms of anxiety, depression, and disruptive behavioral disorders (DBD) in the context of their relationships with reactive–proactive aggression and anxiety sensitivity in children with attention-deficit/hyperactivity disorder (ADHD). The sample consisted of 342 treatment-naive children with ADHD. The severity of ADHD and DBD symptoms were assessed via parent- and teacher-rated inventories. Anxiety sensitivity, reactive–proactive aggression and severity of anxiety and depression symptoms of children were evaluated by self-report inventories. According to structural equation modeling, depression and anxiety scores had a relation with the DBD scores through reactive–proactive aggression. Results also showed a negative relation of the total scores of anxiety sensitivity on DBD scores, while conduct disorder scores had a positive relation with anxiety scores. This study suggests that examining the relations of reactive–proactive aggression and anxiety sensitivity with internalizing and externalizing disorders could be useful for understanding the link among these disorders in ADHD.