10-07-2019 | Uitgave 11/2019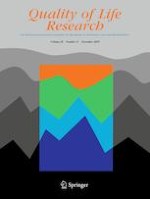 Association between Type D personality and outcomes in patients with non-ischemic heart failure
Tijdschrift:
Auteurs:

Johan S. Bundgaard, Lauge Østergaard, Gunnar Gislason, Jens J. Thune, Jens C. Nielsen, Jens Haarbo, Lars Videbæk, Line L. Olesen, Anna M. Thøgersen, Christian Torp-Pedersen, Susanne S. Pedersen, Lars Køber, Ulrik M. Mogensen
Belangrijke opmerkingen
Electronic supplementary material
Publisher's Note
Springer Nature remains neutral with regard to jurisdictional claims in published maps and institutional affiliations.
Abstract
Purpose
The "distressed" (Type D) personality trait has been reported to be over-represented in patients with heart failure (HF) compared to the background population and may provide prognostic information for mortality. We examined the association between Type D personality and outcomes in the DANISH trial (The Danish Study to Assess the Efficacy of Implantable Cardioverter Defibrillators in Patients with Non-ischemic Systolic Heart Failure on Mortality).
Methods
The DANISH trial included a total of 1116 patients with non-ischemic HF on guideline-recommended therapy. Type D personality was assessed with the Type D Scale (DS14) at baseline and investigated through follow-up accordingly. Multivariable Cox proportional hazard models were used to compare hazard ratios (HR) of cardiovascular and all-cause mortality.
Results
Type D personality assessment was completed by 873 (78%) patients at baseline and Type D personality was found in 120 (14%) patients. The median follow-up was 67 months (interquartile range [IQR] 48–83). Among patients with versus without Type D personality, 22% versus 19% died from all-cause yielding similar incidence rates of 4.62 (95% CI 3.14–6.87) versus 3.95 (95% CI 3.37–4.66) per 100 person-years. The adjusted risk of all-cause mortality was not significantly different in patients with versus without Type D personality with an adjusted HR of 1.31 (95% CI 0.84–2.03,
p
 = 0.23) with similar results for cardiovascular death (HR 1.46 (95% CI 0.88–2.44,
p
 = 0.15).
Conclusion
Type D personality was not significantly associated with increased risk of all-cause mortality or cardiovascular death in patients with non-ischemic HF.