06-08-2015 | Uitgave 1/2016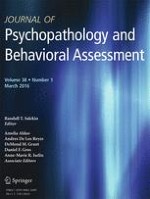 Assessment of Anxiety in Older Adults: Translation and Psychometric Evaluation of the German Version of the Geriatric Anxiety Scale (GAS)
Auteurs:

Juliana Gottschling, Daniel L. Segal, Claudia Häusele, Frank M. Spinath, Gundula Stoll
Abstract
Anxiety occurs frequently among older adults, and can have deleterious impacts on the quality of daily life. Due to the dearth of well-validated elder-specific anxiety screening instruments available in the German language, this study aimed to translate the Geriatric Anxiety Scale (GAS), a reliable and valid 30-item self-report screening instrument for assessing anxiety based on DSM-IV-TR diagnostic criteria (Segal et al.
Journal of Anxiety Disorders, 24
(7), 709–714, 2010a), into German, and to validate the new measure. The German version of the GAS was developed through a translation and back translation process, with careful attention paid to culturally-sensitive expressions of anxiety in the German older adult population. The final version of the German GAS was tested in a sample of 242 community-dwelling older adults (M
age
 = 72.0 years, SD = 6.9 years; 59 % women) who completed either an online (26 %) or a paper-pencil (74 %) version of the questionnaire. The findings confirmed the successful translation of the GAS into German and provided psychometric support for the new measure. The validation of the factor structure based on confirmatory factor analyses was in support of a unidimensional structure of the GAS-G. Correlational analyses with inventories measuring anxiety related and non-anxiety related personality traits additionally confirmed the convergent and discriminant validity of the GAS for use as an assessment measure for anxiety among German older adults.