01-10-2010 | Original Article | Uitgave 5/2010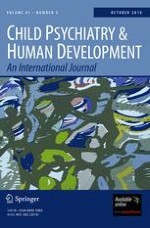 Assessing Disordered Thoughts in Preschoolers with Dysregulated Mood
Tijdschrift:
Auteurs:

Amanda K. Hutchison, Carol Beresford, JoAnn Robinson, Randal G. Ross
Abstract
There is rising interest in identifying precursors to bipolar disorder symptoms, including thought disorder. Thought disorder is identified in adults through self-report and in school-aged children through parent report and child story-telling. This study is an exploration to determine if preschoolers with mood dysregulation have evidence of disordered thoughts using a story-stem completion method. Participants included two groups of 3.5–6 year-old children: 20 with mood dysregulation including manic symptoms and 11 typically developing comparison children. Children were administered story completion narratives including one story where the child character accidentally cuts him/herself while pretending to cook. The children were asked to complete the stories and their responses were analyzed for atypical themes consistent with disordered thoughts such as violence or bizarreness outside of the story or props coming to life. Thirty-five percentage of symptomatic preschoolers versus 0% of typically developing preschoolers ascribed independent actions to inanimate props (
p
= 0.03). Eighty percentage of symptomatic preschoolers versus 9% of typically developing preschoolers utilized props in a violent or bizarre manner outside the central story (
p
< 0.001). Preschool children with symptoms of dysregulated mood express themes related to the unusual use of story props which may indicate disordered thoughts. This preschool expression of dysregulated mood appears similar to and possibly continuous with school-age and adult versions of bipolar disorder.