17-04-2017 | Uitgave 1/2018 Open Access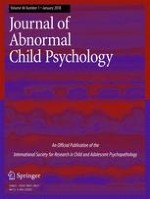 Assessing ASD in Adolescent Females with Anorexia Nervosa using Clinical and Developmental Measures: a Preliminary Investigation
Tijdschrift:
Auteurs:

Heather Westwood, William Mandy, Mima Simic, Kate Tchanturia
Introduction
Method
Participants
Forty females, aged 12 to 18 were recruited from either inpatient (
N
= 8) or day-patient (
N
= 32) ED services. These services were selected with the aim of recruiting individuals with more severe or treatment-resistant AN, resulting in a more homogenous sample. Sixty percent of young people approached about the study agreed to participate. Eighty-three percent (
N
= 33) of participants were White British, 7.5% (
N
= 3) described themselves as "White Other". Two participants had dual heritage and the remaining two participants described their ethnicity as Indian and Black Caribbean, respectively. All new admissions to these services over a 16-month period were invited to participate. Inclusion criteria were: a primary diagnosis of AN and English speaking. The diagnosis of AN was made by a consultant psychiatrist within the respective ED services prior to inclusion in the study. The procedure of diagnosing AN differed by ED service but involved multi-disciplinary assessment using both DSM 5 and ICD 10 criteria. Sixty percent of young people approached about the study agreed to participate.
Ethical Considerations
The study was approved by the National Research Ethics Service (14/LO/2131). Written informed consent was obtained from the parents of participants under the age of 16 or directly from participants aged 16 or over. Children under the age of 16 also gave their written assent to participate. All participants were paid £10 for their time.
Procedure
Each participant completed the ADOS-2 in a single session with a trained, research-reliable examiner. If participants scored at or above clinical cut-off on the ADOS-2, their parents were contacted by telephone to complete the 3Di-sv. Ten percent of the ADOS-2 videos were watched by a second, independent researcher. Inter-rater reliability of coding was good, with 100% agreement on the overall ADOS-2 classification. In addition, each participant completed self-report questionnaires. Current weight and height were obtained from a clinician on the day of the assessment. Percentage of Ideal body weight (%IBW) was calculated, which expresses proportion of an individual's optimal body weight, corrected for age and gender (Lock et al.
2010
). Information on age that AN was first diagnosed was also obtained, which was used to calculate the duration of the ED (In years, calculated as age at ADOS-2 assessment minus age at which AN was diagnosed). Intelligence was also assessed to control for intellectual disability.
Measures
Statistical Analysis
To examine the association between symptoms of ASD and both psychiatric symptoms (ED psychopathology, depression and obsessive compulsive symptoms) and demographics, participants were split into two groups: those who scored at or above clinical cut-off on the ADOS-2 and those who scored below. Independent sample t-tests were conducted to explore group differences. Dependent variables were checked for normality visually using histograms and statistically using the Shapiro-Wilk's test. If data were not normally distributed, transformations were applied where possible and are reported with the results (EDE-Q). If normality could not be achieved through data transformation, non-parametric Mann-Whitney U tests were used instead (duration of AN). An alpha value of 0.05 was applied for all tests of statistical significance. Data were analysed using the statistical package IBM SPSS version 22.00. Cohen's D effect sizes are provided for all comparisons using the following interpretation: small (0.20), medium (0.50) and large (0.8) (Cohen
1988
).
Results
Presence of Symptoms Associated with ASD
Of the 40 participants, 21 (52.5%) scored at or above clinical cut-off on the revised ADOS-2 algorithm (Hus and Lord
2014
). Of those who scored at or above cut-off, 12 displayed RRBs, which despite being part of the diagnostic criteria for ASD, are not required as part of the diagnostic algorithm of the ADOS-2. A comparison of clinical and demographic variables between participants who scored at or above and below cut-off on the ADOS-2 is displayed in Table
1
. The groups did not differ significantly on any measure. No participant exhibited signs of intellectual disability (IQ < 75).
Table 1
Mean and Standard Deviations with independent t-test results for clinical and demographic variables between participants scoring at/above and below clinical cut-off on the ADOS-2
Effect size

Recruitment site

Inpatient =3 Outpatient =16

Inpatient =5 Outpatient =16

Age

15.58(1.35)

14.86(1.62)

0.136

Age of onset of AN

14.58(1.39)

13.62(1.88)

0.077

Duration of AN*

1.00(1.00)

1.00(1.00)

0.789

%IBW

87.18(8.46)

88.51(7.19)

0.599

EDE-Q Global score

3.95(1.50)

3.80(1.38)

Transformed EDE-Q Global score

1.53(0.44)

1.58(0.41)

0.707

MFQ score

70.13(16.10)

71.11(14.24)

0.851

OCI-R score

27.73(17.98)

33.74(18.05)

0.342

WASI-II FSIQ

109.26(12.19)

108.15(16.16)

0.810

% binge-purge subtype

% Atypical AN

5.3

10.5

4.8

14.3
Of the 21 young-people who scored at or above cut-off on the ADOS-2, four also scored above cut-off on all sub-scales of the 3Di-sv. These cases were discussed with the multi-disciplinary team involved in each participant's care and a best-estimate diagnosis of ASD was given in each of the four cases who scored above cut-off on the measures. This resulted in 10% of the entire sample meeting diagnostic criteria for ASD. In addition, one participant scored above cut-off on the Reciprocal Social Interaction subscale but not on Communication or RSBs on the 3Di-sv. Another three participants displayed some behaviour associated with ASD in all domains but did not reach clinical cut-off, while the parents of all other participants (
N
= 13) reported no evidence of behaviours associated with ASD prior to the onset of their daughter's ED.
Qualitative Description of Participants who met Diagnostic Criteria for ASD
All four of the participants who scored above cut-off on both the ADOS-2 and 3Di-sv were suspected of having ASD by their clinical teams prior to participating in this study. All four participants had been diagnosed with restrictive AN for less than two years at the time of assessment. The parents of all four young-people reported believing that their daughters may have had ASD or another developmental disorder but none had ever been assessed. Two participants had a brother with a diagnosis of ASD.
Other co-Morbidities
One participant had a diagnosis of selective mutism, although she did speak during the ADOS-2. No other co-morbidities were reported for the other participants.
Social Communication and Interaction
During the ADOS-2, all four participants had difficulty with conversation and use of descriptive and emphatic gesture was either absent or extremely limited. All used poorly modulated eye contact and did not direct facial expressions towards the examiner. Lack of insight into the nature of typical social relationships was displayed by all participants and the quality of social overtures was reduced or there were no social overtures of any kind. The overall quality of social response was reduced, as was the quality of rapport with the examiner. Three of the four participants did not spontaneously ask about the experiences of the examiner and had difficulty describing events outside of the immediate context. Three participants expressed little shared enjoyment in the interaction and did not comment on other's emotions. There was a lack of reciprocal social interaction and maintenance of attention.
From the 3Di-sv, three of the four mothers of the young people reported delays in their daughter's language acquisition, being diagnosed with some form of language disorder as children. Two of the four made errors of pronoun, e.g., saying "she" instead of "he". They were all reportedly reluctant to engage in "small talk" and had difficulty forming and maintaining friendships, finding it difficult to understand social norms. Regarding non-verbal communication, all reported unusual eye contact. They all had difficulty understanding how others were feeling from their facial expression or tone of voice and all found it hard to express their own emotions.
Restricted, Repetitive Patterns of Behaviour
During the ADOS-2, all four participants displayed speech abnormalities associated with ASD e.g., speaking with a flat intonation. Only two participants displayed evidence of stereotyped behaviours or restricted interests, e.g., repeatedly referring to a school teacher or having an overriding interest in West End musicals. From the 3Di-sv, it became apparent that all four had very specific or overriding interests, including figure skating and boy bands. They all played in a rather formal way as children, rather than engaging in imaginative play. Three displayed some infantile-like interest in taste or smell, e.g., licking objects such as stones and exhibited complex mannerisms or stereotypy such as spinning around or hand flapping.
Discussion
This is the first study to utilise standard, clinical assessment tools: the ADOS-2 and 3Di-sv, to assess ASD in adolescents with a diagnosis of AN, admitted to either day-patient or inpatient treatment programmes. More than half (52.5%) scored above the clinical cut-off on the ADOS-2, however, when developmental history was obtained, only 10% met diagnostic criteria for ASD. Therefore, while a high proportion of adolescent females display symptoms of ASD when they have AN, in most cases, these symptoms may arise from the ill-state associated with AN. Alternatively, parents may not recognise or may under-report symptoms of ASD in their daughters.
Conclusion and Implications
The high proportion of females scoring above cut-off on the ADOS-2 who have no developmental history of ASD highlights the need for rigorous assessment of ASD within ED populations. Relying on self-report or clinical interview alone could lead to misdiagnosis of ASD. While the limited existing research suggests worse outcomes in individuals with AN and ASD symptoms, recovery from AN could lead to a reduction in these symptoms, highlighting the need for longitudinal studies examining treatment outcome in individuals who have received a rigorous diagnosis of ASD. On the other hand, if females with ASD really are at an increased risk of developing EDs then interventions specifically targeted at this group could be beneficial.
The current study showed no difference in high and low scores on the ADOS-2 in terms of clinical characteristics, i.e., ED symptoms, depression or OCD, suggesting that symptoms of ASD may not arise purely because of the ill-state of the ED. it could be that other problems associated with AN such as social anxiety, which was not assessed in this study, may cause false-positive results on the ADOS-2. It is important for clinicians to consider alternative reasons for why individuals may score above clinical cut-off on ASD measures and to consider the possibility of addressing these symptoms within treatment.
Acknowledgements
The authors would like to acknowledge the MRC/IoPPN Excellence Studentship, The Psychiatry Research Trust and The MRF/MRC for their support.
Compliance with Ethical Standards
Funding
This Research was Conducted as Part of a PhD Project and had No Specific Funding Attached to It.
Conflict of Interest
The authors declare that they have no conflict of interest.
Ethical Approval
All procedures performed in studies involving human participants were in accordance with the ethical standards of the institutional and/or national research committee and with the 1964 Helsinki declaration and its later amendments or comparable ethical standards.
Informed Consent
Informed consent was obtained from all individual participants included in the study.
Open Access
This article is distributed under the terms of the Creative Commons Attribution 4.0 International License (http://creativecommons.org/licenses/by/4.0/), which permits unrestricted use, distribution, and reproduction in any medium, provided you give appropriate credit to the original author(s) and the source, provide a link to the Creative Commons license, and indicate if changes were made.