11-07-2018 | Uitgave 1/2019 Open Access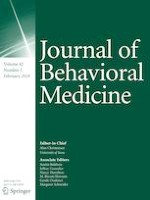 Are sleep hygiene practices related to the incidence, persistence and remission of insomnia? Findings from a prospective community study
Tijdschrift:
Auteurs:

Markus Jansson-Fröjmark, Jonas Evander, Sven Alfonsson
Introduction
The current prospective investigation is therefore an attempt to advance from some of the methodological shortcomings of previous studies and to examine the link between sleep hygiene behaviors and insomnia using a representative sample from the general population, assessing and excluding other primary sleep disorders, using well-established risk factors as covariates in the analyses and pinpointing the association between sleep hygiene practices and future insomnia in a detailed manner.
The overall aim of this investigation was to examine whether sleep hygiene practices are associated with the course of insomnia over 1 year in the general population. More specifically, the purpose was to investigate whether sleep hygiene practices were related to insomnia at baseline, to the incidence of insomnia, and to the persistence and remission of insomnia over time.
Methods
Overview of the design
This longitudinal, survey study was carried out in the general population. The status of insomnia was assessed both at baseline [Time 1 (T1)] and at the 1-year follow-up [Time 2 (T2)], while questions pertaining to sleep hygiene practices were administered only at T1. The study participants were those who returned the baseline and follow-up postal questionnaire as well as did not report other primary sleep disorders than insomnia. The Örebro Hospital's Board on Research Ethics approved this study. Informed consent was obtained in a written format.
Participants
This study is a population-based investigation from a random sample of 3000 residents, 20–60 years old, from 3 out of 25 counties in Sweden (see also Jansson-Fröjmark & Linton,
2008
). The three counties are representative of all Swedish counties in terms of socio-economic status, gender, age, and living areas. From public records of the three counties, in which all residents are listed, the sample was obtained via random sampling. The age range (20–60 year) was chosen as to provide a sample of the workforce in the general population.
Of the 3000 residents, 2076 participants (69%) returned the baseline questionnaire. To assess whether the baseline non-responders differed from the responders, an attrition analysis in two steps (register data and telephone interview) was performed (for details see Jansson-Fröjmark & Linton,
2008
). The attrition analysis showed that the baseline non-responders and responders were similar in terms of age and gender. Also, the analysis demonstrated that there were significantly more responders (35%), compared to the non-responders (29%), who reported a sleep problem during the past 3 months at baseline.
In all, 1746 (84%) of the 2076 baseline responders also returned the follow-up questionnaire 1 year later. For the purpose of the current paper, all participants who reported other primary sleep disorders than insomnia at baseline (
n 
= 108, 6.2%) were excluded (see Primary sleep disorders below). This pertained to the following primary sleep disorders: apnea (
n
 = 33), circadian rhythm disorder (
n
 = 2), restless legs syndrome (
n
 = 54), and periodic limb movement disorder (
n
 = 19). The current paper focuses on the 1638 remaining participants, and descriptive statistics for the study participants are depicted in Table
1
. To estimate whether there were significant differences in terms of insomnia prevalence and sleep hygiene behaviors at baseline between the 330 individuals who returned the baseline but not the follow-up questionnaire and the 1638 study participants who responded to both questionnaires, a Chi square analysis and t-tests were conducted. The results showed that there were no significant differences at baseline regarding reported insomnia prevalence (χ
2
 = 1.17,
p 
= .322) nor on the sleep hygiene items (
p 
≥ .400) between the two groups.
Table 1
The 1638 study participants: demographic parameters
| | The study participants |
| --- | --- |
| Mean age (years) | 41.4 (11.3) |
| Gender (female) | 53.6% |
| Civil status (married or cohabitant) | 77.1% |
| Occupational status | |
| Employed | 78.3% |
| Student | 8.4% |
| Unemployed | 7.1% |
| Sick leave or pension | 6.2% |
Measures and procedure
The questionnaire used in this study was based on existing and validated surveys, and was constructed to assess a variety of factors, including demographic variables (T1), sleep hygiene practices (T1), sleep (T1 and T2), daytime symptoms (T1 and T2), and daytime functioning (T1 and T2). The following demographic parameters were assessed: age, gender, civil status (married or cohabitant—living alone), and occupational status (employed—student—not employed—sick leave or pension). The baseline questionnaire was sent to the 3,000 residents, along with a letter of introduction, information about the project and a stamped return-envelope. The follow-up questionnaire was then mailed 1 year later to the 2076 individuals who returned the baseline questionnaire. At both baseline and follow-up, if a response was not received within 2 weeks a reminder was mailed. If an additional 2 weeks elapsed without a response a second reminder was sent.
Statistical analysis
The data was first summarized with descriptive statistics. An analysis of outliers was conducted employing various forms of detection (e.g. univariate and multivariate) and outlier profiling, but no outliers were identified. Binary logistic regressions were used for the main analyses. The thirteen independent variables were the following: age, gender, mental ill-health, pain, and the nine sleep hygiene items. All the continuous independent variables were transformed into z-scores to enable comparisons between odds ratios and confidence intervals. The logistic regression analyses were based on a hierarchical, multivariate approach, i.e., including age, gender, mental health, and pain in step 1 and all sleep hygiene items in step 2. Since some cells in the analyses contained a limited number of participants, univariate analysis was used as a first, preparatory step in which each independent variable was individually analyzed in relation to the dependent variables insomnia at T1, insomnia at T2, persistence of insomnia and remission from insomnia. Beta values and standard errors are presented in the tables, and odds ratios are presented with 95% confidence intervals. Nagelkerke
R
2
is reported for the logistic regressions. A two-tailed
p
value smaller than .05 was considered statistically significant.
Results
Discussion
The aim of this investigation was to explore whether sleep hygiene practices are associated with the course of insomnia over 1 year in the general population while controlling for demographic parameters, mental ill-health, and pain. In all, three forms of sleep hygiene practice—late evening nicotine use, light or noise disturbance, and having an irregular sleep schedule—had a significant association with concurrent and future insomnia, respectively.
Although this investigation has shown that three sleep hygiene practices are related to concurrent and future insomnia, this does not necessarily imply that these practices are causally linked to insomnia. The longitudinal design of the present investigation cannot demonstrate causality between variables and both sleep hygiene practices and insomnia could be affected by other unknown variables. As mentioned above, nicotine use, light or noise disturbance, and irregular sleep schedule may have complex associations to insomnia that are more pronounced in some subgroups than others. For example, the degree and chronicity of the three sleep hygiene practices may be important factors that partly explain why these associations are found in some studies but not all. These notions are worth exploring in future epidemiological research but also in experimental and clinical studies.
The current investigation has some methodological shortcomings that must be kept in mind when interpreting the results as well as when considering future research. First, the use of self-report measures should impose some caution about the comparability to results obtained by objective measures. A related shortcoming was that the sleep hygiene and insomnia severity measures were retrospective in nature, which is vulnerable to biased or inaccurate responding. Future research may, for example, assess sleep hygiene behaviors and insomnia using daily measurements. A second problem in this study was the baseline participation rate of 69%. Although this level is not uncommon in this type of research, it may restrict the generalizability of the findings. A third possible shortcoming of this study is that the sample of non-responders contacted via telephone was relatively small (5.3%) and therefore possibly not representative of the non-responders in this study. A related limitation of this study was that a selection bias was demonstrated in that more women than men returned the baseline questionnaire and the responders complained more frequently about a sleep problem than the non-responders.
Acknowledgements
This work was supported by AFA Sweden.
Compliance with ethical standards
Conflict of interests
Markus Jansson-Fröjmark, Jonas Evander and Sven Alfonsson declares that they have no conflict of interests to report.
Human and animal rights and Informed consent
All procedures were in accordance with the ethical standards of the institutional research committees and with the 1964 Helsinki declaration and its later amendments or comparable ethical standards. Informed consent was obtained from all individual participants included in the study.
Open Access
This article is distributed under the terms of the Creative Commons Attribution 4.0 International License (
http://​creativecommons.​org/​licenses/​by/​4.​0/​
), which permits unrestricted use, distribution, and reproduction in any medium, provided you give appropriate credit to the original author(s) and the source, provide a link to the Creative Commons license, and indicate if changes were made.