27-09-2017 | Uitgave 6/2018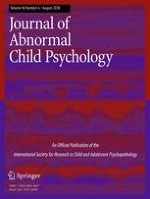 Are Episodic Buffer Processes Intact in ADHD? Experimental Evidence and Linkage with Hyperactive Behavior
Tijdschrift:
Auteurs:

Michael J. Kofler, Jamie A. Spiegel, Kristin E. Austin, Lauren N. Irwin, Elia F. Soto, Dustin E. Sarver
Abstract
Working memory deficits are present in a substantial proportion of children with ADHD, and converging evidence links these deficits with ADHD-related behavioral and functional impairments. At the same time, working memory is not a unitary construct, and evidence is lacking regarding the role of several components of this system in ADHD. Preclinical behavioral studies are needed to fractionate the multicomponent working memory system, determine which specific subcomponent(s) are impaired in ADHD, and more importantly link these subcomponent(s) with specific ADHD-related behavioral symptoms/functional impairments. The current study reflects one piece of that puzzle, and focuses on the episodic buffer component of working memory. Across multiple testing days, a well-characterized sample of 86 children ages 8–13 (
M
=10.52,
SD
=1.54; 34 girls; 64% Caucasian/Non-Hispanic) with ADHD (
n
=49) and without ADHD (
n
=37) completed three counterbalanced working memory tests that were identical in all aspects except the key subcomponent process (phonological, visuospatial, episodic buffer). Gross motor movement during these and control tasks were measured using 4 high-precision actigraphs. There was no evidence of group differences in gender, age, SES, or IQ. Bayesian mixed-model ANOVAs indicated that the ADHD group performed significantly worse on all three working memory tests (
d
=1.17–1.44) and was significantly more hyperactive than controls (
d
=0.66–1.05) during the visuospatial and episodic buffer tests. In contrast, the ADHD and Non-ADHD groups were equivalent with regard to effects of episodic buffer demands on performance and hyperactive behavior. The most parsimonious conclusion is that the episodic buffer is likely intact in ADHD, and unrelated to ADHD hyperactivity symptoms.