07-12-2015 | Original Article | Uitgave 1/2016 Open Access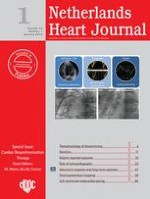 "Are CRT upgrade procedures more complex and associated with more complications than de novo CRT implantations?" A single centre experience
Tijdschrift:
Auteurs:

I.A.H. ter Horst, Y. Kuijpers, J. van 't Sant, A.E. Tuinenburg, M.J. Cramer, M. Meine
Abstract
Objective
The objective of the study was to examine whether cardiac resynchronisation therapy upgrade procedures are more complex and associated with more complications than de novo implantations.
Method
We retrospectively compared 134 upgrade procedures performed between 2006–2012 with a random, equally sized, sample of de novo CRT device implantations in the same period. Procedural data and the occurrence of periprocedural (≤ 30 days) and long-term device-related (≤ 1 year) complications were analysed. Complications with consequences were defined as those in need of adjustment of standard care.
Results
Median time to upgrade was 57 (31–115) months. There were no significant differences in procedure duration, radiation time or total hospitalisation between upgrades and de novo implantations. Perioperative complications occurred in 6.7 % of upgrade patients and in 9.0 % of de novo patients. The most frequently seen complications were phrenic nerve stimulation, coronary sinus dissection and pocket haematoma. Procedure success was comparable (upgrade: 98.5 % versus de novo: 96.3 %). A total of 236 patients completed 1 year of follow-up. Ten (4.2 %) patients had a long-term device-related complication with consequences including phrenic nerve stimulation, lead dislodgement/dysfunction, and infection (upgrade: 3.5 % versus de novo: 4.9 %).
Conclusion
Upgrade procedures are not more complex nor associated with more complications than de novo CRT implantations.