25-11-2016 | Artikel | Uitgave 8/2017 Open Access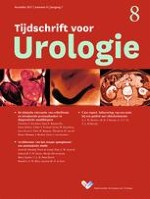 Architectuur van het corpus spongiosum: een anatomische studie
Tijdschrift:
Auteurs:

drs. Sarah R. Ottenhof, dr. Petra de Graaf, drs. Timo F. W. Soeterik, drs. Lidewij M. F. H. Neeter, drs. Marijn Zilverschoon, drs. Matty Spinder, prof. dr. J. L. H. Ruud Bosch, prof. dr. Ronald L. A. W. Bleys, dr. Laetitia M. O. de Kort
Belangrijke opmerkingen
Dit artikel werd eerder gepubliceerd onder de titel
Architecture of the Corpus Spongiosum: An Anatomical Study.
J Urol. 2016 Mar;196(3);919–25.
Samenvatting
Introductie
Gedetailleerde kennis van de architectuur van het corpus spongiosum is nodig voor tissue engineering, maar ontbreekt.
Methoden
Twee penissen van overleden mannen die hun lichaam ter beschikking van de wetenschap hadden gesteld werden ingevroren; één penis in slappe toestand, de ander artificieel in erectie gebracht. Transversale en frontale (lengterichting) weefselcoupes werden genomen en gekleurd. Na digitalisering werden oppervlakten, vorm en weefseldichtheid gemeten en vergeleken. Ook werden een digitale en een stereolithografische 3D-reconstructie gemaakt.
Resultaten
Oppervlaktepercentages van vasculaire holten in beide richtingen lieten een oppervlaktetoename zien in erectie van 127 % transversaal en 140 % frontaal. De transversale coupes hadden een vergelijkbare structuur op de verschillende locaties, maar een grotere weefseldichtheid in de glans penis. De vasculaire holten waren groter in de frontale coupes met meer incomplete septae. Dit werd bevestigd in de 3D-modellen.
Conclusie
Deze studie geeft informatie over de architectuur van het corpus spongiosum, die belangrijk is bij tissue engineering.