01-04-2017 | Eye-Opener | Uitgave 2/2017 Open Access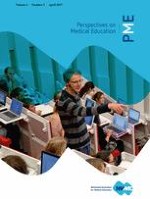 Applying occupational and organizational psychology theory to entrustment decision-making about trainees in health care: a conceptual model
Tijdschrift:
Auteurs:

Ylva Holzhausen, Asja Maaz, Anna T. Cianciolo, Olle ten Cate, Harm Peters
Belangrijke opmerkingen
The first two authors should be regarded as joint first authors.
Introduction
These valuable studies help to build understanding of entrustment decision-making, which represents a pervasive part of the clinical routine and the training of young physicians. What is not deeply understood is how the various factors influencing entrustment decision-making interact and how context influences their relevance and interplay. One way to build this understanding is to analyse individual supervisors' stepwise thinking when considering the entrustment of a professional activity to a trainee in different contexts. This analysis should clarify how entrustment decisions are actually made and how different clinical contexts affect the size and importance of influential factors. It may also lead to the identification of additional influential factors. Ultimately, this understanding could be used to support more accurate, safer, and fairer entrustment decisions.
Conceptualizing trust
In summary, the presented models of trust feature several characteristics that we believe are important for a research agenda that advances understanding of physician supervisors' entrustment decision-making. They distinguish between trusting attitude on the one hand and actual, observable trust-related behaviour on the other hand. In these models, trust-related behaviour is the outcome of a context-bound entrustment decision-making process that is preceded by an accumulation of smaller decisions. These models propose a conceptual structure for the decision-making process which could be helpful for characterizing how and when supervisors' intent to entrust results in the entrustment of a professional activity.
Integrating trust theory with empirical findings on medical entrustment decisions
Let us apply our framework to the EPA of 'history taking'. The supervisor will first have to judge the trainee on his or her ability, benevolence and integrity. These judgments might depend on reputation or experience with the trainee. The supervisor has to decide whether the trainee is generally capable and trustworthy of taking a valid and conclusive history of a patient. Is the trainee capable of talking to the patient without the patient getting upset? Is there a chance that the trainee will confuse the patient? Could the trainee miss a significant finding? How reliable will the trainee's report and differential diagnosis be, and is the supervisor willing to base future actions on it? Additionally, characteristics of the supervisor will influence the intention to entrust the trainee. Is he or she generally a trusting person? What experiences does he or she have with this trainee or with trainees generally?
Discussion
In order to provide a conceptual basis for understanding how a clinical supervisor arrives at the decision to actually entrust a clinical trainee with a professional activity, we utilized factors identified through empirical research in medical education and combined these with theoretical models on trust from the fields of organizational and occupational psychology. From the current research we obtained a valuable overview of the factors influencing the supervisor's entrustment decision. What we aimed to provide with our conceptual model is an understanding of how these factors might interact and under which circumstances the intention to entrust results in a particular level of supervision of the trainee. This information could be used to improve the accuracy and fairness of intentions to trust as well as the effectiveness of supervisory control.
Consequently researchers must be careful in choosing the method to study variables influencing the entrustment decision-making process. Research should apply those methods which yield most information about the unconscious and subjective factors.
The combination of trust theory with research on entrustment decision-making contributes to a model-based understanding of the entrustment process. Making entrustment decisions more transparent will eventually result in better grounded entrustment decisions and hence enhanced patient safety.
Funding
Stiftung Mercator (independent private foundation); European Union's Seventh Framework Programme for research, technological development and demonstration, under grant agreement 619349 (WATCHME Project).
Open Access
This article is distributed under the terms of the Creative Commons Attribution 4.0 International License (
http://​creativecommons.​org/​licenses/​by/​4.​0/​
), which permits unrestricted use, distribution, and reproduction in any medium, provided you give appropriate credit to the original author(s) and the source, provide a link to the Creative Commons license, and indicate if changes were made.