20-02-2018 | Special Section: Test Construction (by invitation only) | Uitgave 7/2018 Open Access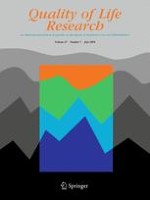 Application of validity theory and methodology to patient-reported outcome measures (PROMs): building an argument for validity
Tijdschrift:
Auteurs:

Melanie Hawkins, Gerald R. Elsworth, Richard H. Osborne
Background
Validity testing theory and methodology
Discussion and conclusion
Acknowledgements
The authors would like to acknowledge the contribution of their colleague, Mr Roy Batterham, to discussions during the early stages of the development of ideas for this paper, in particular, for discussions about the contribution of the
Standards for Educational and Psychological Testing
to understanding contemporary thinking about test validity. Richard Osborne is funded in part through a National Health and Medical Research Council (NHMRC) of Australia Senior Research Fellowship #APP1059122.
Compliance with ethical standards
Conflict of interest
The authors declare that they have no conflict of interest.
Research involving human and animal participants
This paper does not contain any studies with human participants or animals performed by the authors.
Informed consent
Not applicable.
Open Access
This article is distributed under the terms of the Creative Commons Attribution 4.0 International License (
http://​creativecommons.​org/​licenses/​by/​4.​0/​
), which permits unrestricted use, distribution, and reproduction in any medium, provided you give appropriate credit to the original author(s) and the source, provide a link to the Creative Commons license, and indicate if changes were made.
Footnotes
1
There is some exchange in this paper between the terms 'tool' and 'test'. The
Standards
refers to a 'test' and, when referencing the
Standards
, the authors will also refer to a 'test'. The
Standards
is written primarily for educators and psychologists, professions in which testing students and clients, respectively, is undertaken. Patient-reported outcomes measures (PROMs) used in the field of health are not used in the same way as testing for educational grading or for psychological diagnosis. PROMs are primarily used to provide information about healthcare options or effectiveness of treatments.
2
We use 'robust' to describe the required psychometric properties of a PROM in the same way that it is used more generally in the test development and review literature to indicate (a) that in the development stage, a PROM achieves acceptable benchmarks across a range of relevant statistical tests (e.g. a composite reliability or Cronbach's alpha of = > 0.8; a single-factor model for each scale in a multi-scale PROM giving satisfactory fit across a range of fit statistics, clear discrimination across these scales etc.) and (b) that these results are replicated (i.e. remain acceptably stable) across a range of different contexts and uses of the PROM.