Gepubliceerd in: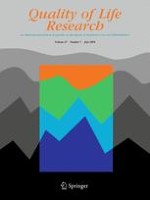 Open Access 20-02-2018 | Special Section: Test Construction (by invitation only)
Application of validity theory and methodology to patient-reported outcome measures (PROMs): building an argument for validity
Gepubliceerd in: Quality of Life Research | Uitgave 7/2018
Abstract
Background
Data from subjective patient-reported outcome measures (PROMs) are now being used in the health sector to make or support decisions about individuals, groups and populations. Contemporary validity theorists define validity not as a statistical property of the test but as the extent to which empirical evidence supports the interpretation of test scores for an intended use. However, validity testing theory and methodology are rarely evident in the PROM validation literature. Application of this theory and methodology would provide structure for comprehensive validation planning to support improved PROM development and sound arguments for the validity of PROM score interpretation and use in each new context.
Objective
This paper proposes the application of contemporary validity theory and methodology to PROM validity testing.
Illustrative example
The validity testing principles will be applied to a hypothetical case study with a focus on the interpretation and use of scores from a translated PROM that measures health literacy (the Health Literacy Questionnaire or HLQ).
Discussion
Although robust psychometric properties of a PROM are a pre-condition to its use, a PROM's validity lies in the sound argument that a network of empirical evidence supports the intended interpretation and use of PROM scores for decision making in a particular context. The health sector is yet to apply contemporary theory and methodology to PROM development and validation. The theoretical and methodological processes in this paper are offered as an advancement of the theory and practice of PROM validity testing in the health sector.
Background
Validity testing theory and methodology
Discussion and conclusion
Acknowledgements
The authors would like to acknowledge the contribution of their colleague, Mr Roy Batterham, to discussions during the early stages of the development of ideas for this paper, in particular, for discussions about the contribution of the
Standards for Educational and Psychological Testing
to understanding contemporary thinking about test validity. Richard Osborne is funded in part through a National Health and Medical Research Council (NHMRC) of Australia Senior Research Fellowship #APP1059122.
Compliance with ethical standards
Conflict of interest
The authors declare that they have no conflict of interest.
Research involving human and animal participants
This paper does not contain any studies with human participants or animals performed by the authors.
Informed consent
Not applicable.
Open Access
This article is distributed under the terms of the Creative Commons Attribution 4.0 International License (
http://​creativecommons.​org/​licenses/​by/​4.​0/​
), which permits unrestricted use, distribution, and reproduction in any medium, provided you give appropriate credit to the original author(s) and the source, provide a link to the Creative Commons license, and indicate if changes were made.