20-02-2018 | Special Section: Test Construction (by invitation only) | Uitgave 7/2018 Open Access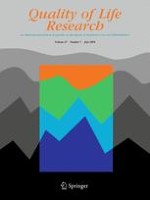 Application of validity theory and methodology to patient-reported outcome measures (PROMs): building an argument for validity
Tijdschrift:
Auteurs:

Melanie Hawkins, Gerald R. Elsworth, Richard H. Osborne
Abstract
Background
Data from subjective patient-reported outcome measures (PROMs) are now being used in the health sector to make or support decisions about individuals, groups and populations. Contemporary validity theorists define validity not as a statistical property of the test but as the extent to which empirical evidence supports the interpretation of test scores for an intended use. However, validity testing theory and methodology are rarely evident in the PROM validation literature. Application of this theory and methodology would provide structure for comprehensive validation planning to support improved PROM development and sound arguments for the validity of PROM score interpretation and use in each new context.
Objective
This paper proposes the application of contemporary validity theory and methodology to PROM validity testing.
Illustrative example
The validity testing principles will be applied to a hypothetical case study with a focus on the interpretation and use of scores from a translated PROM that measures health literacy (the Health Literacy Questionnaire or HLQ).
Discussion
Although robust psychometric properties of a PROM are a pre-condition to its use, a PROM's validity lies in the sound argument that a network of empirical evidence supports the intended interpretation and use of PROM scores for decision making in a particular context. The health sector is yet to apply contemporary theory and methodology to PROM development and validation. The theoretical and methodological processes in this paper are offered as an advancement of the theory and practice of PROM validity testing in the health sector.