01-04-2011 | Original Paper | Uitgave 2/2011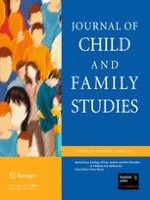 Anxiety Symptoms in African American Children: Relations with Ethnic Pride, Anxiety Sensitivity, and Parenting
Tijdschrift:
Auteurs:

Calonie M. K. Gray, Rona Carter, Wendy K. Silverman
Abstract
This cross-sectional study examined the relations among children's ethnic pride, perceived parenting behavior (i.e., parental control, parental acceptance), anxiety sensitivity, and child anxiety symptoms (i.e., physical symptoms, social anxiety symptoms, separation anxiety symptoms, and harm avoidance symptoms) in 266 African American school children (
M
= 9.98 years old; 55% girls). Structural equation modeling results indicated that high ethnic pride was associated with high parental acceptance. High perceived parental acceptance, in turn, was related to children reporting low levels of social anxiety symptoms and high levels of harm avoidance. In addition, high parental control was related to high anxiety sensitivity. Anxiety sensitivity partially mediated the relation between parental control and separation anxiety symptoms, such that parental control was both directly and indirectly related to separation anxiety symptoms. Parental control was indirectly related to physical symptoms, social anxiety symptoms, and harm avoidance symptoms through its direct link to anxiety sensitivity. The study's results increment knowledge about factors influencing specific dimensions of anxiety in African American children.