27-07-2018 | Original Article | Uitgave 1/2019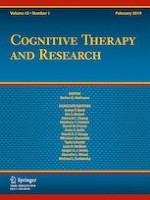 Anxiety Sensitivity is Associated with Lower Enjoyment and an Anxiogenic Response to Physical Activity in Smokers
Tijdschrift:
Auteurs:

Samantha G. Farris, Aubrey J. Legasse, Lisa A. Uebelacker, Richard A. Brown, Lawrence H. Price, Ana M. Abrantes
Abstract
The subjective affective response to, and enjoyment of, physical activity are strong predictors of engagement in physical activity. Anxiety sensitivity, the fear of bodily sensations, is a cognitive factor that may inhibit the pleasurable affective experience of physical activity, possibly contributing to low levels of physical activity. The current study evaluated anxiety sensitivity in relation to PA enjoyment and affective experience before and after exercise in smokers. Participants were low-active treatment-seeking smokers (
n
 = 201) enrolled in a smoking cessation intervention. At baseline, participants completed self-report assessments of anxiety sensitivity, cigarette dependence, and physical activity enjoyment. State affect was also reported before and after a submaximal exercise test to index pre-exercise activity affect and affective response to exercise. Anxiety sensitivity was significantly negatively correlated with physical activity enjoyment, specifically lower enjoyable physical feelings of physical activity. Anxiety sensitivity was significantly correlated with lower state mood and higher state anxiety prior to the submaximal exercise test, and higher anxiety immediately after the exercise test. Additionally, anxiety sensitivity predicted increased anxiety, but not lower mood, in response to the submaximal exercise test. This is the first study to document an association of anxiety sensitivity with affective determinants of physical activity behavior in smokers. Anxiety sensitivity was associated with lower physical activity enjoyment, higher negative affect prior to and after exercise testing, and an anxiogenic response to exercise. Future work is needed to understand how the current findings generalize beyond smokers.