Gepubliceerd in: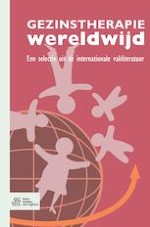 01-12-2020
Angststoornissen bij kinderen: een behandeling gericht op de ouders is even effectief als cognitieve gedragstherapie gericht op het kind. Een gerandomiseerde non-inferioriteitsstudie naar Supportive Parenting for Anxious Childhood Emotions
Gepubliceerd in: Gezinstherapie Wereldwijd | Uitgave 4/2020
Log in om toegang te krijgen
Samenvatting
Doelstelling:
Behandelingen voor angststoornissen bij kinderen zijn vaak onvoldoende effectief.
Eerder is onderzocht of de resultaten van CGT verbeteren als ouders bij de behandeling worden betrokken, maar er is nog geen onderzoek gedaan waarin de effectiviteit van behandelingen voor alleen de ouders wordt vergeleken met CGT bij kinderen. In het voorliggende onderzoek vergeleken we CGT met de SPACE-interventie: Supportive Parenting for Anxious Childhood Emotions ('steunend opvoeden bij angstige emoties van een kind'). SPACE is een behandeling voor de ouders van een angstig kind die leidt tot vermindering van de accommodatie aan de angst van hun kind. Voor dit onderzoek zijn CGT en SPACE vergeleken in een experiment naar non-inferioriteit.
Methode:
deelnemers van de studie waren kinderen met primaire angststoornissen (
N
 = 124; 7–14 jaar; 53% meisjes; 83% wit), die aselect werden ingedeeld in SPACE (
n
 = 64) – waarbij er geen direct contact was tussen de therapeut en het kind –, of ze werden ingedeeld bij CGT (
n
 = 60), waarbij hun ouders geen behandeling kregen. In totaal voltooiden 97 deelnemers (78%) alle behandelsessies en metingen. De uitvalspercentages verschilden niet significant per groep. De meetinstrumenten voor angst waren een diagnostisch interview en enkele beoordelingsschalen die de therapeut invulde. Als secundaire uitkomsten werd bekeken hoe de ouders en de kinderen scoorden op de ernst van de angst, de mate van accommodatie van het gezin, en de opvoedingsstress. De marges voor non-inferioriteit werden bepaald op grond van statistische en klinische overwegingen. De veranderingen in de accommodatie van het gezin en de opvoedingsstress werden onderzocht met gemengde-modellenanalyses.
Resultaten:
SPACE deed niet onder voor CGT (non-inferioriteit) in de primaire en secundaire uitkomsten op angst, en ook niet waar het aankwam op de scores door de onafhankelijke beoordelaars, ouders en kinderen. In beide behandelingen namen de accommodatie van het gezin en de opvoedingsstress in SPACE significant af; de afname in accommodatie van het gezin was zelfs significant groter in SPACE dan in CGT. De geloofwaardigheid van- en tevredenheid over de behandeling in SPACE waren hoog.
Conclusie:
SPACE is een acceptabele en werkzame behandeling voor angststoornissen bij kinderen, de interventie doet niet onder voor CGT en daarmee is SPACE een volwaardige, alternatieve strategie voor het behandelen van angst bij kinderen.
Informatie over de registratie van de klinische trial:
Explanatory Clinical Trial of a Novel Parent Intervention for Childhood Anxiety (SPACE);
https://​clinicaltrials.​gov
; NCT02310152.