01-04-2011 | AN UPDATE ON SACRAL NEUROMODULATION | Uitgave 2/2011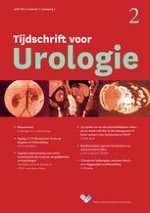 An update on sacral neuromodulation: where do we stand with this in the management of lower urinary tract dysfunction in 2010?
Tijdschrift:
Auteur:

J.L.H.R. Bosch
Samenvatting
Een update over sacrale neuromodulatie: actuele stand van zaken bij de behandeling van disfunctie van de lage urinewegen
Sacrale neuromodulatie is een heilzame behandelingsoptie bij geselecteerde patiënten met het overactieve blaassyndroom en de niet-obstructieve urineretentie. Deze behandelingsoptie moet daarom overwogen worden voordat een meer invasieve, niet-reversibele behandeling wordt ingesteld. Echter: in de meeste publicaties is de duurzaamheid van het initiële behandelingsresultaat waarschijnlijk overschat. Bij patiënten met refractaire aandrangincontinentie is het percentage patiënten dat na 5 jaar nog geneest, dat wil zeggen geheel droog is, ongeveer 15%. Het genezingspercentage van patienten met niet-obstructieve retentie, dat wil zeggen het percentage dat spontaan plast en in het geheel niet meer hoeft te katheteriseren, is ongeveer 50-55% na 5 jaar. Bij de groep patiënten met het urgency-frequency syndroom (OAB-dry) is het moeilijk aan te geven welk percentage precies genezen is. Het percentage patiënten dat re-interventies/re-operaties nodig heeft, benadert bij een gemiddelde follow-up van 5 jaar de 50%. Het effect op de levenskwaliteit is nog onvolledig onderzocht en dus onduidelijk. Helaas is ook de werkelijke kosteneffectiviteitsratio nog onbekend.
Omdat nog geen goede voorspellende factoren zijn geïdentificeerd, is het nog steeds onduidelijk hoe patiënten het best geselecteerd kunnen worden voor deze behandeling. Wel lijken mannen slechter te responderen dan vrouwen.
Technische verbeteringen, zoals het gebruik van de 'tined lead', de implantatie-in-2-tempi, de kleinere Interstim-II pulse generator, plaatsing van de IPG ter hoogte van de bil en de minder invasieve gedeeltelijk percutane techniek, lijken het revisiepercentage enigszins verminderd te hebben. Ondanks deze technische modificaties is echter een hoger succespercentage na de definitieve implantatie niet te verwachten, aangenomen dat de sacrale zenuwen ook met de oudere techniek al adequaat gestimuleerd werden.
Summary
Neuromodulation is beneficial for some patients with an overactive bladder syndrome or nonobstructive urinary retention and should be considered before applying more invasive, nonreversible treatments. However, the durability of the initial success is probably overrated in most reports. The cure rate in patients with refractory urgency incontinence is around 15% at 5-years follow-up. In patients with nonobstructive urinary retention the cure rate at 5 years is about 50- 55%. It is difficult to define cure in patients with the urgencyfrequency syndrome. The published reoperation rate approaches 50% after an average follow-up of 5 years. The effect on quality of life is unclear. Unfortunately, the true cost-benefit ratio of this expensive type of treatment is not known .
It is still unclear how best to choose patients for this procedure, since no predictors of success have been identified. Male patients seem to respond poorly to sacral neuromodulation. Technical advances such as the use of the tined lead, the 2-stage implant, the smaller InterStim II pulse generator, buttock placement of the pulse generator and the less invasive partially percutaneous technique, seem to have decreased the necessity for revision. However, higher success rates with the definite implant are not to be expected with these technical modifications, provided that the sacral nerve is stimulated adequately when using the older technique.