28-07-2017 | Empirical Research | Uitgave 3/2018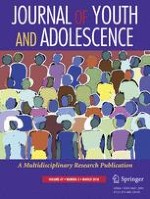 An Online Drug Abuse Prevention Program for Adolescent Girls: Posttest and 1-Year Outcomes
Tijdschrift:
Auteurs:

Traci M. Schwinn, Steven P. Schinke, Jessica Hopkins, Bryan Keller, Xiang Liu
Abstract
Early adolescent girls' rates of drug use have matched, and in some instances, surpassed boys' rates. Though girls and boys share risk factors for drug use, girls also have gender-specific risks. Tailored interventions to prevent girls' drug use are warranted. This study developed and tested a web-based, drug abuse prevention program for adolescent girls. The nationwide sample of 13- and 14-year-old girls (
N
 = 788) was recruited via Facebook ads. Enrolled girls were randomly assigned to the intervention or control condition. All girls completed pretest measures online. Following pretest, intervention girls interacted with the 9-session, gender-specific prevention program online. The program aimed to reduce girls' drug use and associated risk factors by improving their cognitive and behavioral skills around such areas as coping with stress, managing mood, maintaining a healthy body image, and refusing drug use offers. Girls in both conditions again completed measures at posttest and 1-year follow-up. At posttest, and compared to girls in the control condition, girls who received the intervention smoked fewer cigarettes and reported higher self-esteem, goal setting, media literacy, and self-efficacy. At 1-year follow-up, and compared to girls in the control condition, girls who received the intervention reported engaging in less binge drinking and cigarette smoking; girls assigned to the intervention condition also had higher alcohol, cigarette, and marijuana refusal skills, coping skills, and media literacy and lower rates of peer drug use. This study's findings support the use of tailored, online drug abuse prevention programming for early adolescent girls.