Gepubliceerd in: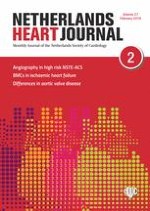 Open Access 14-12-2018 | Rhythm Puzzle – Question
An irregular narrow complex tachycardia: atrial fibrillation or something else?
Gepubliceerd in: Netherlands Heart Journal | Uitgave 2/2019
A 44-year-old female patient was referred to our centre for pulmonary vein isolation. Her medical history was significant for hypothyroidism. She was taking levothyroxine and was clinically euthyroid with a free T4 of 19.9 pmol/l (12–22 pmol/l) and a thyroid-stimulating hormone level of 4.5 mU/l (0.3–4.5 mU/l). She experienced daily episodes of palpitations, not responding to antiarrhythmic drug therapy (sotalol or flecainide). Episodes were self-terminating within an hour of onset, without performing vagal manoeuvres. A 12-lead electrocardiogram was acquired during palpitations, which revealed an irregular narrow complex tachycardia that was previously diagnosed as atrial fibrillation (Fig.
1
). Structural heart disease was excluded by transthoracic echocardiography. Based on this ECG an electrophysiology study was scheduled. During placement of the catheters, spontaneous initiation of an irregular tachycardia occurred (Fig.
2
). What is the mechanism of this tachycardia?
×
×
Answer
You will find the answer elsewhere in this issue.
Open Access
This article is distributed under the terms of the Creative Commons Attribution 4.0 International License (
http://​creativecommons.​org/​licenses/​by/​4.​0/​
), which permits unrestricted use, distribution, and reproduction in any medium, provided you give appropriate credit to the original author(s) and the source, provide a link to the Creative Commons license, and indicate if changes were made.