01-12-2009 | Uitgave 4/2009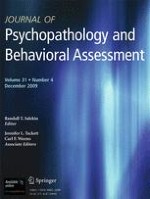 An Exploratory Study of Integrative Personality Pathology Systems and the Interpersonal Circumplex
Auteurs:

Christopher J. Hopwood, Elizabeth A. Koonce, Leslie C. Morey
Belangrijke opmerkingen
This research was supported by NIMH grant MH75543. Portions of this paper were presented at the
Society for Interpersonal Theory and Research
, Madison, WI, June, 2007. The authors would like to thank T.J.G. Tracey for his helpful consultation.
Abstract
Normative and pathological personality traits are theoretically associated with interpersonal behavior patterns and difficulties. However, little is known about relations between dimensional personality systems that integrate pathological and normative traits and social functioning. The current study explores the projections of scales from two integrative frameworks, the
Dimensional Assessment of Personality Pathology
and the
Schedule for Nonadaptive and Adaptive Personality
, onto interpersonal circumplex traits and problems. The DAPP and the SNAP demonstrated similar overall validity in predicting the interpersonal domain. Results suggest a novel framework for understanding personality—interpersonal behavior relations by categorizing scales according to their: a) minimal, b) non-specific, c) specific, and d) differential relations to interpersonal traits and problems with important implications for future research relating clinical constructs to interpersonal behavior as well as clinical assessment and behavioral predictions based on SNAP and DAPP scales.