01-09-2012 | Uitgave 3/2012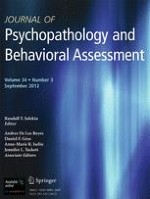 An Examination of the Latent Structure of the Difficulties in Emotion Regulation Scale
Auteurs:

Joseph R. Bardeen, Thomas A. Fergus, Holly K. Orcutt
Belangrijke opmerkingen
This research was funded by grants to the second author from the Joyce Foundation, the National Institute for Child and Human Development, and the National Institute of Mental Health.
Abstract
The Difficulties in Emotion Regulation Scale (DERS; Gratz and Roemer, Journal of Psychopathology and Behavioral Assessment 26:41–54,
2004
) is a popular multidimensional self-report measure of emotion regulation. The present study sought to examine the latent factor structure of the DERS. An examination of latent factor intercorrelations and a higher-order confirmatory factor analysis (CFA) suggested that the DERS-AWARENESS dimension may not represent the same higher-order emotion regulation construct as the other five DERS dimensions. Furthermore, findings supported the adequacy of a revised five-factor model of the DERS in which the AWARENESS dimension was removed. This revised DERS total scale did not diminish concurrent relations between the DERS and outcomes relevant to the emotion regulation domain (i.e., depression, anxiety, posttraumatic stress symptoms). Implications for the conceptualization and assessment of emotion regulation are discussed.