06-09-2018 | Original Article | Uitgave 3/2019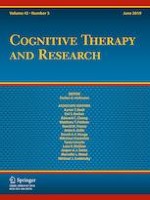 An Examination of Perseverative Thinking and Perception of Threat from Emotion as Mechanisms Underlying the Relationship Between Distress Intolerance and Internalizing Symptoms
Tijdschrift:
Auteurs:

Katherine A. McDermott, Hillary L. Smith, Jesse R. Cougle
Abstract
Distress intolerance (DI) represents the perceived inability to withstand and manage upsetting emotional and physical internal experiences. Recent research suggests that DI is relevant to a number of clinical disorders; however the mechanisms underlying the association between DI and internalizing symptoms are unclear. It may be that DI is primarily a construct characterized by the perception of negative emotions as threatening. This possibility is consistent with current DI treatments, which focus on repeatedly exposing participants to emotional distress so that threat disconfirmation and habituation will result. However, an alternative line of research suggests that associations between DI and internalizing symptoms can be accounted for by perseverative thinking, a style of thought characterized by repetitive and passive sustained attention on information, particularly negative information. Using path analysis, the current study simultaneously compared pathways between DI and internalizing symptoms through appraisal of negative emotion and perseverative thinking in a sample of Mechanical Turk participants (
N
 = 175). Results demonstrated a significant indirect effect through perseverative thinking for models examining depressive symptoms, OCD symptoms, worry, and fear of negative evaluation. In contrast, the indirect effect through appraisal of negative emotion was significant only for the model examining OCD symptoms. Potential clinical and theoretical implications are discussed.