01-03-2011 | Uitgave 1/2011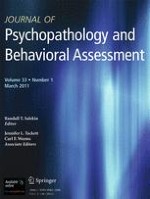 An Evaluation of the Relation Between Distress Tolerance and Posttraumatic Stress within a Trauma-Exposed Sample
Auteurs:

Anka A. Vujanovic, Marcel O. Bonn-Miller, Carrie M. Potter, Erin C. Marshall, Michael J. Zvolensky
Abstract
The present investigation examined the incremental associations between distress tolerance, or the perceived capacity to tolerate emotional distress, and global posttraumatic stress symptom severity as well as symptom cluster severity, beyond the variance accounted for by number of trauma exposure types and negative affectivity. The sample consisted of 140 adults (72 women;
M
a

ge
 = 25.9,
SD
 = 11.1) who endorsed exposure to traumatic life events, as defined by posttraumatic stress disorder diagnostic criterion A (American Psychiatric Association
2000
). Participants did not meet diagnostic criteria for current axis I psychopathology. Distress tolerance demonstrated significant incremental associations with global posttraumatic stress symptom severity (
p
 < .01) as well as re-experiencing (
p
 < .05), avoidance (
p
 = .05), and hyperarousal (
p
 < .001) symptom cluster severity. Given the cross-sectional study design, causation cannot be inferred. Theoretical implications and future directions for better understanding associations between distress tolerance and posttraumatic stress are discussed.