27-03-2020 | Uitgave 7/2020 Open Access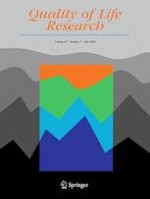 An EQ-5D-5L Value Set for Vietnam
Tijdschrift:
Auteurs:

Vu Quynh Mai, Sun Sun, Hoang Van Minh, Nan Luo, Kim Bao Giang, Lars Lindholm, Klas Goran Sahlen
Belangrijke opmerkingen
Electronic supplementary material
Publisher's Note
Springer Nature remains neutral with regard to jurisdictional claims in published maps and institutional affiliations.
Introduction
The EQ-5D instrument comprises a descriptive system and a visual analogue scale (EQ-VAS). The descriptive system classifies health on five dimensions: mobility, self-care, usual activities, pain/discomfort and anxiety/depression. Within each dimension, respondents are asked to describe their current health using either three (no problems, some/moderate problems, extreme problems/unable to/confined to bed) or five (no problems, slight problems, moderate problems, severe problems and unable to/extreme problems) levels of severity. This gives rise to two different versions of EQ-5D labelled, respectively, the EQ-5D-3L and the EQ-5D-5L. The EQ-VAS is common to both versions of EQ-5D and is a hash-marked scale ranging from 0 to 100 where 0 represents the worst imaginable health and 100 the best imaginable health. EQ-5D value sets are sets of preference weights (or utilities) which can be applied to all health states generated by a given version of EQ-5D (EQ-5D-3L or EQ-5D-5L).
Methods
This study followed a standardized protocol developed by the EuroQol Group (EQ-VT 2.1 in Vietnamese). Fieldwork was conducted between 20 November and 25 December 2017. Trained interviewers carried out face-to-face interviews. Data upload and quality control (QC) were performed daily.
Study population
Study participants were Vietnamese, over 18 years of age, who were able to read and understand the study questions. Participants were informed about the study and provided their written consent to participate. The study was conducted in six provinces, representing six different geographical regions (Northern mountains, the Red River delta, the Highlands, Central Coast, the South-East and the Mekong river delta). The sample size of the original study was 1200 participants, as per standardized protocol recommendations for the minimum sample size for a valuation study [
27
,
28
]. A multi-stage stratified cluster sampling method was applied. Six provinces, one in each region, were purposefully selected to reflect the average socio-economic level in the area. In the next stage, one urban and one rural cluster were chosen randomly in each province. In the final stage, respondents were recruited from relevant clusters using a probabilistic quota-based method. The quota was set for age groups (18–29 years, 30–44 years, 45–59 years and 60 + years) and sex, based on the Vietnamese general population structure in 2017 [
29
]. For details of the study sampling frame, please refer to Table
1
in the online supplementary materials. Recruitment was at the level of households, using a door-to-door approach.
Table 1
Study sample's and Vietnam general population's characteristics
Variables

Study Sample

(n = 1200) n (%)

Vietnamese population*

(N = 92,695 Mio.) N (%)

Socio-economic Regions

Central Highland

80 (6.67)

5691 (6.14)

Mekong River Delta

230 (19.17)

17,705 (19.10)

Northern Midland and Mountainous

146 (12.17)

11,958 (12.89)

North Central and Central Coastal

259 (21.58)

19,837 (21.39)

Red River Delta

270 (22.5)

21,134 (22.79)

South-East

215 (17.92)

16,407 (17.69)

Residence

Urban

425 (35.42)

31,980 (34.50)

Rural

775 (64.58)

60,715 (65.50)

Age group

18–29

410 (34.17)

31,019 (33.46)

30–44

389 (32.42)

30,112 (32.49)

45–59

257 (21.42)

19,976 (21.55)

60 + 

144 (12.00)

11,588 (12.50)

Gender

Male

588 (49.00)

45,699 (49.30)

Female

612 (51.00)

46,996 (50.70)

Marital status

Currently married

873 (72.75)

63,218 (68.20)

Others

326 (27.17)

29,477 (31.80)

Missing

1 (0.08)

Poverty

Poor and near poor**

77 (6.42)

6489 (7.00)

Non-poor

1123 (93.58)

86,206 (93.00)

Education status

Lower than primary school

41 (3.42)

NA

Primary school

167 (13.92)

NA

Completed secondary school

370 (30.83)

NA

Completed high school

313 (26.08)

NA

University and higher

307 (25.58)

NA

Missing

2 (0.17)

EQ-5D-5L self-reported health

Perfect health

652 (54.33)

NA

Problems at any level on Mobility

116 (9.67)

NA

Problems at any level on Self-care

21 (1.75)

NA

Problems at any level on Usual activities

57 (4.75)

NA

Problems at any level on Pain/discomfort

412 (34.33)

NA

Problems at any level on Anxiety/depression

235 (19.58)

NA

Mean VAS (SD)

81.08 (13.37)

NA
Valuation technique
Two valuation techniques were used to obtain health state preferences: (1) composite time-trade-off (C-TTO), with an experimental design incorporating ten blocks of ten health states each, and (2) discrete choice experiments (DCE), in which the experimental design comprised 28 blocks of seven pairs each. Detailed descriptions of the valuation protocol can be found elsewhere [
27
]. The C-TTO is different from the traditional time trade-off method as the traders are given a lead time of ten more years to trade if they decide that they would prefer to be dead at the start of the trade-off process (the case of worse than dead). Details of the two elicitation methods have been published elsewhere [
30
–
32
].
Quality control
Quality Control tool version 2.5, provided by the EuroQol Group, was employed to mitigate the effect of interviewer bias [
31
]. The QC tool flags interviews in which anomalies are detected, for example, interviews that are conducted unrealistically fast, which do not introduce the "worse than dead" case, or which show clear logical inconsistency. Interviewers with flagged interviews were re-trained and also invited to observe and reflect on how their colleagues conducted the interviews. Daily discussions between supervisors and interviewers were conducted to bolster the quality control process. In parallel, the research team communicated twice weekly with the EuroQol Group's scientific group to discuss the QC reports.
Interviewer training
A two-stage interviewer training procedure was followed. In the first stage, training for research team members was provided by the EuroQol Group following an existing training protocol [
27
]. In the second stage, the trained research team members provided training to twelve candidate interviewers based on the same protocol. The twelve candidates were recruited from students who had recently graduated from the Hanoi University of Public Health. The candidates practiced interviewing each other during a class-based training session and then performed real interviews during the pilot study in the Duc Thang ward, an urban residential area near the university. The quality of the pilot interviews was evaluated using the QC tool. A meeting was held between candidates and supervisors to obtain feedback and discuss difficulties encountered during the interviews. After the pilot study, ten interviewers were selected to participate in the fieldwork.
Data collection
The data collection form comprised four main sections. Respondents first provided background demographic information before completing the EQ-5D-5L to provide information on their current health status. At this point, participants were guided through five practice examples of the C-TTO task before being asked to value their ten randomly ordered EQ-5D-5L health states. Finally, they completed seven DCE tasks. After completing the ten C-TTO valuations, participants were shown the rank ordering of those states based on their responses to the task and any states they considered to be disordered were flagged (feedback module).
We made some adjustments to the standard EQ-VT protocol to take account of specific circumstances for this type of survey in Vietnam. Firstly, addressing questions directly to someone in relation to illness or being dead in Vietnam can be considered insensitive and, in fact, during the pilot study, the sensitiveness of the topic for both interviewers and respondents became apparent. Interviewers were therefore directed to ask respondents how they thought someone like them (e.g. same age, sex, socio-economic status, etc.) would trade-off time in the C-TTO tasks, instead of the respondents being asked how they would trade-off time themselves. Secondly, our observations from the pilot study suggested that elderly people often felt tired after spending a long time working at a screen in the C-TTO tasks (30 min or more) and they did not completely focus on the next tasks. Instead of carefully comparing the two given health states to complete the DCE tasks, elderly respondents were likely to provide random responses. To improving their concentration, a visual aid in the form of a coloured card was given along with the original visualization of the DCE task on the computer screen. The visual aid included five separate pieces of rectangular paper, printed in five different shades of yellow from lighter to darker according to five levels of severity. Interviewers would use these cards to compare the difference in the colours of options A and B of the pair. For details of the coloured card, Fig.
1
in the online supplementary materials can be consulted.
×
Data analysis
Both descriptive statistics and modelling were conducted using Stata software version 15 from the Stata Corporation [
33
]. Means, standard deviations and 95% confidence intervals were used for continuous variables; frequencies and percentages were used to describe categorical variables.
Data modelling was developed by employing the utility decrement (disutility) as the dependent variable for the C-TTO data and a binary variable 0/1 representing whether state A was chosen vs. state B for the DCE data. We used two sets of independent variables, known as regular dummies and incremental dummies. Both sets comprised four levels to describe health (from "slight problems" to "extreme/unable to do") for each of the five health dimensions (mobility, self-care, usual activities, pain/discomfort and anxiety/depression). The difference between both is that while regular dummies represent movements from no problems to any other specific level, the incremental dummies represent movements between consecutive levels.
The DCE design includes 10 pairs that are manually added to the experimental design. Oppe and van Hout described this as follows: "We wanted to make sure that 10 very mild pairs would be included in the DC design. Therefore, we fixed these 10, and generated the remaining 186 ones using a design algorithm" [
28
]. The problem occurs when the observed choice probabilities for these 10 pairs are extreme (> 85%). It tells the model that the distance between the two health states is infinite, causing bias in the model estimations. For this reason, we checked whether the probabilities of these 10 pairs were extreme and we excluded these 10 pairs from our analysis if they were extreme.
Model construction
Several models were tested to take into account different characteristics of the existing data, i.e. (1) the use of two different valuation methods and the desire to maximize the use of the available data led to the testing of hybrid models; (2) because the composite TTO task does not allow for values lower than − 1 while, theoretically, they could be lower, Tobit models were tested to account for the censored nature of C-TTO data; (3) panel Tobit model (random intercepts model) was tested because of the multiple responses from the same respondent; (4) heteroscedastic models were tested because variance can differ across health states. To compare the C-TTO and DCE model results, the coefficients of the DCE model were rescaled using the rescaling parameter of the TTO model estimations [
34
]. Further details of the modelling approach are available elsewhere [
35
,
36
].
Model selection
We first estimated separately an original Tobit, a heteroscedastic Tobit and a panel Tobit model using the C-TTO data and a Logit model using the DCE data. Then we checked whether it was sensible to combine the C-TTO and DCE data using scatter plots to plot predictions of C-TTO models versus predictions of the DCE Logit model. The correlation between the rescaled DCE Logit model and the C-TTO models was tested prior to the hybrid model construction. Next, we estimated hybrid models in case that the presence of C-TTO and DCE data was feasible in a single estimation. The selection of the best-performing model was based on both the consistency of the results produced (i.e. the model which minimized inconsistent orderings or results in the final algorithm) and the degree to which models used all the available data.
Results
Discussion
This study has provided a value set based on societal preferences for EQ-5D-5L health states in Vietnam. Values were obtained from a nationally representative sample using the latest version of EQ-VT. The value set can be used for QALY calculations based on the EQ-5D-5L descriptive system and will be a useful tool for local policymakers and HTA researchers.
Differences such as these show why it is preferable for Vietnam to have its own value set. Furthermore, the availability of a local, standardized national value set increases the credibility of results obtained using EQ-5D-5L and of the outcome of cost-effectiveness analysis using country-specific data.
There are some notes in the study. The first note is our modification to the standard protocol for the EQ-5D-5L valuation study. That may affect to any purpose of cross-country comparison involving the Vietnam value set. Additionally, the use of DCE cards has not been systematically recorded, which could potentially bias this study. Another potential limitation of our study is the possibility of interviewer bias. Our efforts to reduce interviewer bias included re-training and daily group discussions to help interviewers improve their interviewing skills. Also, the fact that the C-TTO is a complicated exercise can lead interviewers to focus on younger respondents because they find the task somewhat easier. The interviewer biases was avoided by using the QC tool and online electronic reporting, which provided real-time updates on participants by age, sex, and place of residence.
Conclusion
This study presents the first value set for EQ-5D-5L based on social preferences obtained from a nationally representative sample in Vietnam. The results of this study will likely play a key role in economic evaluations and health technology assessments in Vietnam in the future and will be of great value to local policymakers.
Acknowledgements
Open access funding provided by Umea University. This study was funded and supported by the EuroQol Research Foundation, Hanoi University of Public Health, Hanoi Medical University and Umeå University. The authors are grateful to the EQ-VT support team for facilitating and supporting the software and monitoring quality during data collection. We are grateful for the technical support from Juan M. Ramos-Goñi and other EuroQol Group colleagues during the analysis. We would like to thank Michael Herdmand for proofreading the article. We would also like to thank the 24 local guides and all staff at the 12 District Departments of Health and Community Health Centres for their logistics support, as well as the 10 interviewers and our colleagues in HUPH for their continuous support of the team.
Compliance with ethical standards
Conflicts of interest
The authors declare no conflicts of interest regarding the publication of this article.
Ethical approval
The study design was considered and approved by the Ethical Review Board for Biomedical Research at the Hanoi University of Public Health (Identification number: 374/2017/YTCC-HD3). Written consent forms were obtained from participants before the interviews and the consent forms are stored at the Hanoi University of Public Health.
Open Access
This article is licensed under a Creative Commons Attribution 4.0 International License, which permits use, sharing, adaptation, distribution and reproduction in any medium or format, as long as you give appropriate credit to the original author(s) and the source, provide a link to the Creative Commons licence, and indicate if changes were made. The images or other third party material in this article are included in the article's Creative Commons licence, unless indicated otherwise in a credit line to the material. If material is not included in the article's Creative Commons licence and your intended use is not permitted by statutory regulation or exceeds the permitted use, you will need to obtain permission directly from the copyright holder. To view a copy of this licence, visit
http://​creativecommons.​org/​licenses/​by/​4.​0/​
.
Publisher's Note
Springer Nature remains neutral with regard to jurisdictional claims in published maps and institutional affiliations.