01-12-2020 | Research | Uitgave 1/2020 Open Access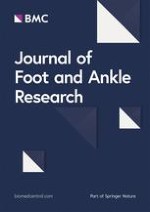 Amputation rate of diabetic foot ulcer and associated factors in diabetes mellitus patients admitted to Nekemte referral hospital, western Ethiopia: prospective observational study
Tijdschrift:
Auteurs:

Firomsa Bekele, Legese Chelkeba
Belangrijke opmerkingen
Publisher's Note
Springer Nature remains neutral with regard to jurisdictional claims in published maps and institutional affiliations.
Abstract
Background
Diabetes foot ulcer is a devastating and much-feared complication of diabetes. Diabetes foot ulcerations which developed gangrene can take weeks or months to heal and can sometimes not heal at all so that amputation for non-traumatic causes is a frequent outcome in the diabetic foot. Despite this, there is no finding on predictors of the amputation rate of diabetes foot ulcers in Ethiopia. Hence this study was aimed to identify factors associated with the amputation rate of diabetes foot ulcer patients in Nekemte referral hospital.
Patients and methods
A prospective observational study was conducted among adult diabetes foot ulcer patients admitted to Nekemte referral hospital from March 15 to June 15, 2018. A pus swab was obtained from the ulcers before any ulcer cleaning to conduct gram staining. The primary outcome was the amputation rate. Cox regression analysis was used to estimate the hazard ratios and time from study entry to healing was evaluated as censored event times by Kaplan-Meier curves.
Result
Over the study period, 115 diabetes foot ulcer patients were admitted to the NRH; of these patients, 64(55.65%) were males while the mean age of participants was 44.4 ± 14.7. A total of 34(29.57%) of the diabetes foot ulcer were overweight and 16(13.91%) were obese while the mean ± standard deviation of body mass index (BMI) was 24.94 ± 3.69 kg/m2 and a total of 56(48.69%) diabetic foot ulcer had a diabetic complication.
Of patients with diabetic foot ulcer, 35(30.43%) were undergone lower extremity amputations (LEA). Patients who were prescribed with inappropriate antibiotics were unlikely to heal. A total of 18(46.15%) of the patients who were taken inappropriate antibiotics were healed whereas 21(53.85%) were not healed (
P
 = 0.017). Besides, the higher the Wagner grade, the worse the outcome of healing. A total of 19(21.84%) and 16(57.14%) of patients with grade < 4 and grade ≥ 4, respectively, did not heal (
P
 = 0.005).
Conclusion
The amputation rate of diabetes foot ulcers was rapid for patients prescribed inappropriate antibiotics and higher grades of the foot ulcer. Therefore, the presence of clinical pharmacists plays a pivotal role to promote the appropriate use of antibiotics and besides the daily care, special attention should be given for patients having an advanced grade of diabetes foot ulcer.