01-05-2013 | Artikelen | Uitgave 2/2013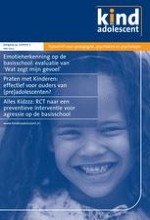 Alles Kidzzz: RCT naar een preventieve geïndiceerde individuele interventie voor agressie op de basisschool
Tijdschrift:
Auteurs:

Dr. Sabine Stoltz, Dr. Monique van Londen, Prof. dr. Maja Deković, Prof. dr. Bram Orobio de Castro, Dr. Peter Prinzie
Belangrijke opmerkingen
Dr. S. Stoltz
is universitair docent ontwikkelingspsychologie, Radboud Universiteit.
Dr. M. van Londen
is universitair docent pedagogiek, Universiteit Utrecht.
Prof. dr. M. Deković
is hoogleraar pedagogiek, Universiteit Utrecht.
Prof. dr. B. Orobio de Castro
is hoogleraar ontwikkelingspsychologie, Universiteit Utrecht.
Dr. P. Prinzie,
is universitair hoofddocent pedagogiek, Universiteit Utrecht.
Dit is een Nederlandse bewerking van het oorspronkelijke artikel: Stoltz, S., Van Londen, M., Deković, M., Orobio de Castro, B., Prinzie, P., & Lochman, J. E. (2012) (Open access). Effectiveness of an individual school-based intervention for children with aggressive behaviour: A randomized controlled trial.
Behavioural and Cognitive Psychotherapy
. 1-24.
Samenvatting
Voor basisschoolleerlingen met agressief gedrag zijn effectieve interventies nodig om de ontwikkeling naar ernstiger gedragsproblemen te doorbreken. In deze
rct
is de effectiviteit van Alles Kidzzz onderzocht, een preventieve geïndiceerde individuele interventie op school, gericht op vermindering van agressie via het verbeteren van cognitieve vaardigheden.
At random
werden 48 scholen toegewezen aan de interventie- of controlegroep. Er participeerden 264 kinderen uit groep zes, genomineerd door leerkrachten vanwege verhoogd externaliserend gedrag. Alles Kidzzz leidde tot minder reactieve en proactieve agressie, gerapporteerd door kinderen, moeders, vaders of leerkrachten (effectgrootten: .11 tot .32). Op basis van leerkrachtbeoordelingen op de voor- en nameting werd een klinisch significante verandering in externaliserend gedrag gevonden: na deelname aan Alles Kidzzz verminderde externaliserend probleemgedrag tot subklinisch/normaal niveau. Kinderen rapporteerden een positievere zelfperceptie en een aspect van sociaal-cognitief functioneren veranderde. Etniciteit en geslacht modereerden enkele door het kind en leerkracht gerapporteerde interventie-effecten. Resultaten tonen volgens verschillende informanten onder condities van de dagelijkse praktijk effectiviteit van Alles Kidzzz aan.