01-08-2008 | Uitgave 6/2008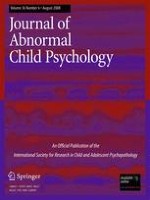 Affective Decision-Making and Externalizing Behaviors: The Role of Autonomic Activity
Tijdschrift:
Auteurs:

Jennifer L. Bubier, Deborah A. G. Drabick
Abstract
We tested a conceptual model involving the inter-relations among affective decision-making (indexed by a gambling task), autonomic nervous system (ANS) activity, and attention-deficit/hyperactivity disorder (ADHD) and oppositional defiant disorder (ODD) symptoms in a largely impoverished, inner city sample of first through third grade children (
N
 = 63, 54% male). The present study hypothesized that impaired affective decision-making and decreased sympathetic and parasympathetic activation would be associated with higher levels of ADHD and ODD symptoms, and that low sympathetic and parasympathetic activation during an emotion-inducing task would mediate the relation between affective decision-making and child externalizing symptoms. In support of our model, disadvantageous decision-making on a gambling task was associated with ADHD hyperactivity/impulsivity symptoms among boys, and attenuated sympathetic activation during an emotion-inducing task mediated this relation. Support for the model was not found among girls.