01-04-2013 | Uitgave 2/2013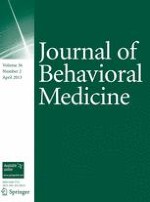 Adults with cardiovascular disease who help others: a prospective study of health outcomes
Tijdschrift:
Auteurs:

Michele Heisler, HwaJung Choi, John D. Piette, AnnMarie Rosland, Kenneth M. Langa, Stephanie Brown
Belangrijke opmerkingen
"[T]he generous will prosper, and those who refresh others will themselves be refreshed." (Proverbs, 11:25).
Abstract
Little is known about the health impact of helping behaviors among individuals with high-risk chronic diseases such as cardiovascular disease (CVD). Using a nationally representative, longitudinal survey, we examined the subsequent health of adults with CVD (n = 4,491) who spent time providing non-paid assistance to family and friends outside of their households compared with those who had provided no assistance. After both adjusting for baseline characteristics and using propensity score matching methods, spending up to 200 h over the prior 12 months helping others was associated with lower odds of experiencing a new CVD event or dying in the subsequent 2 years. Providing up to 100 h of assistance was associated with reporting fewer depressive symptoms. This threshold effect raises the question of whether assistance beyond a certain number of hours may impose a burden that mitigates health benefits from helping others. Health care providers could play an important role exploring ways that patients with CVD can provide beneficial levels of assistance to others in their own social networks or communities, thereby possibly also improving their own health.