01-03-2008 | Artikelen | Uitgave 1/2008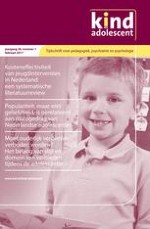 Adoptie als interventie (2)
De opmerkelijke inhaalslag van adoptiekinderen en de plasticiteit van hun ontwikkeling
Tijdschrift:
Auteur:

Prof. Dr. Femmie Juffer en Marinus H. van IJzendoorn
Belangrijke opmerkingen
Mevr. prof. dr. F. Juffer
en
prof. dr. M. H. van IJzendoorn
zijn verbonden aan het Centrum voor Gezinsstudies van de Universiteit Leiden.
Contactadres
: Femmie Juffer of Rien van IJzendoorn, Centrum voor Gezinsstudies, Universiteit Leiden, Postbus 9555, 2300 RB Leiden;
Dit artikel is een vertaalde en licht bewerkte versie van het artikel Van IJzendoorn, M. H., en Juffer, F. (2006). The Emanuel Miller Memorial Lecture 2006. Adoption as intervention. Meta-analytic evidence for massive catch-up and plasticity in physical, socio-emotional, and cognitive development.
Journal of Child Psychology and Psychiatry, 47,
1228-1245. Vertaald door dr. Mieke van IJzendoorn.
Samenvatting
In dit laatste deel van een tweeluik over adoptie gaan we na of (binnenlandse of internationale) adoptie een effectieve interventie is voor de ontwikkelingsdomeinen van fysieke groei, gehechtheid, cognitieve ontwikkeling en schoolprestaties, zelfwaardering en gedragsproblemen. Door middel van een reeks meta-analyses met meer dan 270 onderzoeken en meer dan 230.000 geadopteerden en niet-geadopteerde leeftijdgenoten toetsten we een model voor de herstelkansen van adoptiekinderen. Hoewel de inhaalslag vergeleken met huidige leeftijdgenoten op sommige ontwikkelingsgebieden (vooral fysieke groei en gehechtheid) niet volledig is, overtreffen de geadopteerden ruimschoots hun achtergebleven leeftijdgenoten. Adoptie vóór twaalf maanden gaat gepaard met een meer volledige inhaalslag dan adoptie na de eerste verjaardag wat betreft lengte, gehechtheid en schoolprestaties. Bij internationale adoptie is er in de meeste ontwikkelingsdomeinen niet minder inhaalgroei dan bij binnenlandse adoptie.