01-01-2012 | Uitgave 1/2012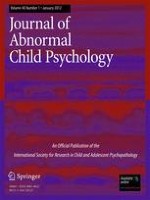 Adolescent Disruptive Behavior and Borderline Personality Disorder Symptoms in Young Adult Men
Tijdschrift:
Auteurs:

Jeffrey D. Burke, Stephanie D. Stepp
Abstract
Very few studies have prospective information, especially regarding males, on the prediction of Borderline Personality Disorder (BPD) in adulthood from psychiatric disorders in childhood. Certain childhood disorders, however, have notably similar features in common with BPD. In particular, the affective dysfunction, hostility and interpersonal conflict of Oppositional Defiant Disorder (ODD) and the impulsivity of Attention Deficit Hyperactivity Disorder (ADHD) in particular may be indicative of an early developmental path towards BPD. The present study uses longitudinal data from a clinical sample of 177 boys, initially between the ages of 7 and 12, who were followed up annually to age 18, and who were reassessed at age 24 (
n
 = 142). The study examines the prediction from repeated childhood measures of psychopathology measured annually through adolescence to BPD symptoms assessed at age 24, accounting for the effects of covariates including substance use, other personality disorders at age 24 and harsh physical punishment. The prevalence of BPD in this sample was consistent with other population estimates. Attention Deficit Hyperactivity Disorder (ADHD) and ODD were the only child psychiatric disorders to predict BPD symptoms, and the oppositional behavioral dimension of ODD was particularly predictive of BPD. These results indicate possible developmental links between early psychiatric disorders and BPD.