01-11-2014 | Empirical Research | Uitgave 11/2014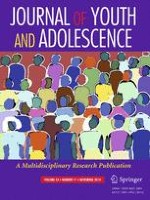 Adolescent Civic Engagement and Adult Outcomes: An Examination Among Urban Racial Minorities
Tijdschrift:
Auteurs:

Wing Yi Chan, Suh-Ruu Ou, Arthur J. Reynolds
Abstract
Civic engagement in adolescence is encouraged because it is hypothesized to promote better civic, social, and behavioral outcomes. However, few studies have examined the effects of civic engagement on youth development over time. In particular, the long-term association between adolescent civic engagement and development among racial minority youth who are exposed to high levels of risk factors is understudied. Using data from the Chicago Longitudinal Study (CLS;
N
= 854; 56.6 % were female; 93 % were African Americans and 7 % were Latinos), this study examined the associations between civic engagement in adolescence and outcomes during emerging adulthood among racial minority youth. Regression analyses found that civic engagement in adolescence is related to higher life satisfaction, civic participation, and educational attainment, and is related to lower rates of arrest in emerging adulthood. The findings suggest that adolescent civic engagement is most impactful in affecting civic and educational outcomes in emerging adulthood. The present study contributes to the literature by providing support for the long-term associations between adolescent civic engagement and multiple developmental domains in adulthood among an inner-city minority cohort.