01-02-2007 | Original Paper | Uitgave 2/2007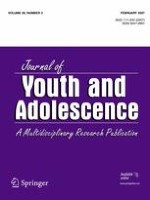 Adolescent Children of Adolescent Mothers: The Impact of Family Functioning on Trajectories of Development
Tijdschrift:
Auteurs:

V. Susan Dahinten, Jennifer D. Shapka, J. Douglas Willms
Belangrijke opmerkingen
V. Susan Dahinten is an Associate Professor in the School of Nursing at the University of British Columbia. She received her Ph.D. from the University of British Columbia in 2001. Her research focuses on the investigation of family and neighborhood factors that influence the health and development of children and youth, and the evaluation of public health interventions for children at risk.
Jennifer D. Shapka is an Associate Professor in the Department of Educational and Counselling Psychology, and Special Education, at the University of British Columbia. She received her Ph.D. in 2002 from the University of Toronto. Her research is focused on adolescent and youth development, with a particular focus on understanding contextual influences on developmental wellbeing, such as the role of information technology. For more information, see www.educ.ubc. ca/faculty/shapka.
J. Douglas Willms is a Professor and Director of the Canadian Research Institute for Social Policy at the University of New Brunswick (UNB). He received his Ph.D. in 1983 from Stanford University. He holds the Canada Research Chair in Human Development at UNB and is a Fellow of the Royal Society of Canada and Research Fellow of the Canadian Institute for Advanced Research. His current interests include the examination of family, school and community factors that contribute to the health and well-being of Canadian children and adolescents, and the use of continuous monitoring in the assessment of school reforms.
Abstract
This study drew on four cycles of longitudinal data from the Canadian National Longitudinal Survey of Children and Youth to examine the academic and behavioural trajectories of youth between 10 and 15 years of age as a function of maternal age at childbearing. The analyses controlled for several family characteristics and examined the mediating effects of three family functioning variables (maternal depression, and nurturing and rejecting parenting behaviours). Maternal age was related to academic competency in math (standardized Math scores), externalizing disorders (Property Offences, Hyperactivity-Inattention), and internalizing disorders (Anxiety-Emotional Disorder). After accounting for family characteristics, the children of the young and older teen mothers retained their disadvantage in Math scores and Property Offences, respectively, whereas the children of older mothers lost the advantages that they had exhibited at age 10 (for Property Offences, the benefits were mediated through family functioning). These results have implications for future research and for the development of policy and programming targeting the healthy development of youth.