01-11-2014 | Brief Communication | Uitgave 9/2014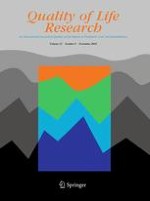 Adaptation and validation of the Spanish version of the Patient-Oriented Prostate Utility Scale (PORPUS)
Tijdschrift:
Auteurs:

Mónica Ávila, Yolanda Pardo, Manel Castells, Ferran Ferrer, Ana Boladeras, Joan Pera, Pedro J. Prada, Benjamin Guix, Belen de Paula, Helena Hernandez, Angels Pont, Jordi Alonso, Olatz Garin, Karen Bremner, Murray Krahn, Montse Ferrer, The Multicentric Spanish Group of Clinically Localized Prostate Cancer
Belangrijke opmerkingen
Participants in the Multicentric Spanish Group of Clinically Localized Prostate Cancer: Jordi Alonso, Virginia Becerra, Montse Ferrer, Olatz Garín, Angels Pont IMIM (Hospital del Mar Medical Research Institute); Ana Boladeras, Ferran Ferrer, Ferran Guedea, Evelyn Martínez, Joan Pera, Montse Ventura (Institut Català d'Oncologia); Ferran Aguiló, Manel Castells, José Francisco Suárez (Hospital Universitari de Bellvitge); Javier Ponce de León, Humberto Villavicencio (Fundación Puigvert); Jordi Craven-Bratle, Gemma Sancho (Hospital de la Santa Creu i Sant Pau); Belen de Paula, Pablo Fernández (Instituto Oncológico de Guipúzcoa); Benjamin Guix (Fundación IMOR); Ismael Herruzo (Hospital Regional Carlos Haya); Helena Hernández, Víctor Muñoz (Hospital Meixoeiro-Complejo CHUVI); Asunción Hervas, Alfredo Ramos (Hospital Ramon y Cajal); Víctor Macias (Hospital Cínico Universitario de Salamanca); Josep Solé, Marta Bonet (Institut Oncologic del Valles—IOV); Alfonso Mariño (Centro Oncológico de Galicia); María José Ortiz (Hospital Virgen del Rocío); Pedro J. Prada (Hospital Universitario Central de Asturias).
This work was presented as a peer reviewed poster presentation abstract in ISOQOL 20th Annual Conference. October 9–12, 2013, Miami, Florida, USA.
Abstract
Objective
The Patient-Oriented Prostate Utility Scale (PORPUS) is a combined profile and utility-based quality of life measure for prostate cancer patients. Our objectives were to adapt the PORPUS into Spanish and to assess its acceptability, reliability, and validity.
Methods
The PORPUS was adapted into Spanish using forward and back translations and cognitive debriefing. PORPUS was administered jointly with the SF-36 and the Expanded Prostate Index Composite (EPIC) to 480 Spanish prostate cancer patients treated with radical prostatectomy or radiotherapy. The Spanish PORPUS scores' distribution and reliability were examined and compared with the original instrument. To evaluate construct validity, relationships were assessed between PORPUS and other instruments (testing hypotheses of the original PORPUS study), and among known groups defined by side effect severity.
Results
Reliability coefficient was 0.76 (similar to the original PORPUS' 0.81). Spanish PORPUS items presented correlations ranging 0.57–0.88 with the corresponding EPIC domains, as in the original PORPUS study (0.60–0.83). Both PORPUS-P and PORPUS-U showed significant differences and large effect sizes (0.94–1.90) when comparing severe versus no problem groups on urinary, bowel, sexual and hormonal side effects defined by EPIC.
Conclusions
A conceptually equivalent Spanish version was obtained, with high reliability and good construct validity, similar to the original Canadian PORPUS version. It can therefore be used to measure health-related quality of life and utilities in Spanish prostate cancer patients.