01-07-2009 | Original Article | Uitgave 4/2009 Open Access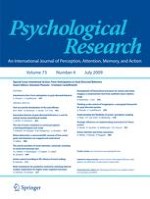 Action control according to TEC (theory of event coding)
Tijdschrift:
Auteur:

Bernhard Hommel
Life inside and outside of psychological laboratories differs in many ways, which is particularly true with respect to action control. Outside the lab people seem to carry out actions to achieve particular goals and to adapt the environment according to their needs. Once they enter a lab, however, they are commonly talked into responding to arbitrary stimuli by carrying out meaningless movements. The latter is assumed to increase the amount of experimental control over the variables involved in performing an action, which of course is true and utterly important for disentangling all the confounds present in everyday actions. And yet, most models of action control seem to take this highly artificial stimulus-response situation so serious that they use it as a template for voluntary action in general. In fact, almost all introductory textbooks of cognitive psychology do not only neglect most aspects of action control, but they also reduce action to a mere byproduct of perception and reasoning.
We could have seen this coming. In the last half of the nineteenth century there were two dominant forces that shaped psychological theorizing with regard to action control. On the one hand, there were authors who relied mainly on introspection, an approach that not surprisingly was strongly driven by our everyday concept of action as a means to achieve wanted outcomes. Authors like Lotze (
1852
), Harless (
1861
), and James (
1890
) were interested in the question how the mere thought of a particular action (or its outcomes) can eventually lead to its execution or, more generally speaking, how we can voluntarily move our body in the absence of any conscious insight into motor processes (
executive ignorance
). Action was thus reconstructed by starting the analysis with a goal or to-be-achieved effect and then asking how motor processes are used to achieve this effect. According to this logic, action is a means to generate perceptions (of outcomes) and to the degree that these perceptions can be anticipated and systematically produced action is considered voluntary. On the other hand, there were authors who followed Descartes' strategy of tracing the perceptual sensations produced by external stimuli through the body, with muscle contractions being the final result. Particularly important for the further development of experimental psychology and the cognitive neurosciences was the approach of Donders (
1868
). He suggested analytically segmenting the processing stream from the sensory organ to the muscle into separate, sequential stages and to measure the duration of each stage by systematically manipulating task factors related to it. According to the logic underlying this approach, action is a consequence of sensory processing but not its precursor, which makes the action truly a response and the stimulus it's most important predictor.
Donders' methodological approach turned out to be far more useful for the emerging discipline of experimental psychology and related areas of the cognitive neurosciences than the nineteenth century introspective armchair reasoning. After the necessary adjustments and refinements (Sternberg,
1969
), the technique to use reaction times to segment information-processing streams into stages was widely used and still dominates research in several areas (such as dual-task performance, see Pashler,
1994
). Indeed, from the currently available textbooks it is easy to see that Donders' approach has influenced our thinking most: actions are commonly referred to as responses and considered to be mainly controlled by the stimulus and the way it is processed. However, the recent interest in what is commonly called executive functions (the term that replaced the outdated "will") has revealed the shortcomings of a purely stimulus-driven approach and lead to a revival not of the methods but of the analytical perspective of the introspective theorists. In the following, I would like to focus on the probably most comprehensive approach involved in this revival, the Theory of Event Coding (or TEC: Hommel, Müsseler, Aschersleben & Prinz,
2001a
,
b
). I will briefly review the main assumptions of what was considered a meta-theoretical framework that, among other things, integrates ideomotor theorizing with Prinz's (
1990
) common-coding hypothesis (which claims that perception and action rely on shared cognitive representations) and Hommel's (
1997
) action-concept model (which holds that human cognition is based on integrated sensorimotor units), and elaborate on the implications of these assumptions for action control. Then I go on to discuss how a TEC-inspired approach changes the way actions are reconstructed and analyzed, and how this affects our understanding of how stimulus and action events are processed and cognitively represented, and how actions are selected, prepared, planned, and evaluated. Even though more research is certainly needed, accumulating evidence suggests that the TEC-driven approach is not only tenable but, even more importantly, that it is fruitful in generating novel theoretical questions and experimental strategies.
The ideomotor principle
What Lotze (
1852
), Harless (
1861
), James (
1890
) and related theorists intended to explain was how having the idea of an action translates into that action's execution, which is why their approach has been coined ideo-motor (Greenwald,
1970
; Prinz,
1987
; Stock & Stock,
2004
). The ideomotor approach has suffered from a notoriously bad press, however. Thorndike (
1913
) compared it to the superstitious believes of primitive people in the power of their thoughts to magically change things in the world, and Miller, Galanter, and Pribram (
1960
) concluded that all this approach has to offer for bridging the gap from knowledge to action is the hyphen between
ideo
and
motor
. In contrast to the claims and own achievements of these historically pretty successful attempts to ridicule ideomotor theorizing, the ideomotor approach was rather specific with regard to the basic mechanism underlying action control. Figure
1
shows the neural scenario suggested by James (
1890
). Consider a motor neuron M the activation of which moves a Muscle, which again provides kinesthetic feedback by activating neuron K. This may represent the neural hardware a newborn is equipped with or the neural software it prenatally acquired. When exploring the world, the newborn may at some point get neuron M activated, be it through a reflex or arousal induced by sensations (represented by S), or simply by motor noise (sometimes called "motor babbling"). Whatever its cause, this activation results in a movement that produces the kinesthetic perception that is associated with the activation of K. If this happened only once, not much would follow. If, however, activating M regularly leads to the activation of K, trace conditioning creates an association between M and K, following the Hebbian principle that what fires together wires together (cf. Greenwald,
1970
). Accordingly, K would become a kind of retrieval cue for M, so that re-creating or anticipating the perceptual experience coded by K becomes a means of activating M in a now intentional fashion: the activation of M, and of the movement this invokes, has come under intentional control. Obviously, the same logic applies to any other sensory modality, so that the codes of any perceptual consequence or effect of a given movement can become integrated with the motor neurons producing this movement and thus become its cognitive representation.
×
The notion that the motor patterns underlying voluntary actions are represented by codes of their perceptual effects has received ample empirical support. Elsner and Hommel (
2001
) have demonstrated that introducing novel auditory action effects, such as tones of a particular pitch that sound contingent on pressing a particular key, renders these effects primes and retrieval cues of the actions they accompany. For instance, if adults have experienced that left and right key presses systematically produce high- and low-pitched sounds, presenting these sounds as stimuli later on facilitated performance if the sound–key mapping heeded the previous key–sound mapping. Moreover, if subjects were presented with a free-choice task after having experienced particular key–sound contingencies, presenting a sound as a mere trigger signal increased the frequency of choosing the action that previously had produced this sound. Comparable findings have been obtained in numerous labs and with various tasks, stimuli, actions, and effects, and with participants of various ages (for an overview, see Hommel & Elsner,
2009
), which points to a rather general action-effect integration mechanism. Studies using neuroimaging techniques have shown that facing a previously learned action effect leads to the activation of a number of action-related brain areas. In particular, auditory action effects activate the right hippocampus, which presumably links the sensory effect representations to their corresponding action plans, and the supplementary motor area, which presumably houses these plans (Elsner et al.,
2002
; Melcher et al.,
2008
). Of particular interest, even though the observed activations were elicited by the presentation of a stimulus (an action effect), the responding cortical areas were those that are typically involved in controlling endogenously planned but not stimulus-triggered actions—which fits with the notion that the codes of action effects are used for controlling voluntary action. Finally, a number of findings have demonstrated that the compatibility between features of the action proper and features of its effects have an impact on reaction time and, thus, on response selection. For instance, keypresses responses are initiated faster if they trigger visual events in spatially corresponding rather than non-corresponding locations (Kunde,
2001
), suggesting that the spatial codes of both the key to be pressed and the visual event to be produced are considered when selecting a response. Comparable effects of action-effect compatibility have been reported for temporal (Kunde,
2003
), semantic (Koch & Kunde,
2002
), and other relations between actions and effects.
Coding and representing stimulus and action events
Preparing for perceiving and acting
Activating stimulus and action codes
Selecting and planning an action
Monitoring an action
Conclusions
One of the aims of this article is to caution against the widespread tendency to take the setups of the experimental tasks we use in our laboratories too seriously and to tailor our theories too tightly to them. Presenting carefully selected stimuli and measuring arbitrary responses to them provides many advantages, but real actions are commonly not driven by stimuli, not carried out to subserve meaningless goals, and not aimed at carrying out movements for their own sake. Few theories account for that but many still consider the stimulus as the precursor and main predictor of action. One purpose of formulating TEC was to provide an alternative perspective that allows (better) to take intentions and the goal-directed nature of action into consideration, and to do so in a neurobiologically plausible way. TEC makes an attempt to explain that and how human action is anticipatory in nature, how anticipations emerge through experience, and how the anticipation of action effects comes to regulate human behavior. In particular, we have seen that anticipations serve at least two purposes: the selection of appropriate actions and the evaluation of action outcomes in the context of a particular goal.
Another aim of this article was to show that TEC does not yet provide a full-fledged account of action but that it provided fruitful guidelines for asking new questions, generating new data, and interpreting them in the context of a coherent theoretical framework. However, more work needs to be done. Among other things, a better understanding is needed for how more complex, multistep actions are acquired and controlled, how motivational processes affect the preparation and execution of actions, and how individual learning and experience, and external constraints interact to create action goals. From a TEC perspective, this calls for connecting the basic architecture to self-related long-term structures and for getting to grips with the neuromodulators that are driving the activation and integration of feature codes.
Acknowledgments
Support for this research by the European Commission (PACO+, IST-FP6-IP-027657) is gratefully acknowledged. I wish to thank Tom Beckers, Wilfried Kunde, and Giovanni Pezzulo for constructive comments and suggestions.
Open Access
This article is distributed under the terms of the Creative Commons Attribution Noncommercial License which permits any noncommercial use, distribution, and reproduction in any medium, provided the original author(s) and source are credited.
Open Access
This is an open access article distributed under the terms of the Creative Commons Attribution Noncommercial License (
https://​creativecommons.​org/​licenses/​by-nc/​2.​0
), which permits any noncommercial use, distribution, and reproduction in any medium, provided the original author(s) and source are credited.