01-01-2009 | Original Article | Uitgave 1/2009 Open Access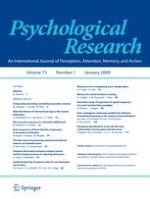 Acting while perceiving: assimilation precedes contrast
Tijdschrift:
Auteurs:

Marc Grosjean, Jan Zwickel, Wolfgang Prinz
Introduction
Experiment 1
Results and discussion
The exclusion criteria led to a total of 5.83% of discarded trials. Table
1
presents mean movement initiation time and movement time as function of the concurrently perceived stimulus direction. Movement initiation times were relatively short (overall mean = 229 ms) and movement times (overall mean = 1996 ms) nicely approximated the target duration of 2 s. However, neither of these measures significantly varied as a function of the concurrently perceived stimulus direction (both
P
's > 0.09).
Experiment and measure

Stimulus direction

Upward

Horizontal

Downward

Movement initiation time

226

228

233

Movement time

1996

2004

1989

Y

position at movement offset

−2.08

2.96

5.56

Movement time

769

716

751

Y

Position at movement offset

−15.69

−5.27

0.71
Figure
2
a depicts the mean horizontal movement trajectories for the three stimulus directions. As can be seen in the figure, the trajectories showed a certain degree of curvature that bent away from the participants' body, which is a common finding for such lateral hand movements (for a recent example, see Saunders & Knill,
2003
). More interestingly, the trajectories for the different stimulus directions fanned apart from each other over time. In particular, the trajectories for the upward and downward conditions deviated away from the perceived motion directions. By the end of the movement, having watched an upward motion led to a 7.64 mm lower movement endpoint than having watched a downward motion, whereas the horizontal motion condition led to an intermediate final position (see Table
1
). This effect of stimulus direction on the mean
y
position at movement offset was significant,
F
(2, 38) = 27.26,
P
< 0.001, η
p
2
= 0.59, ɛ = 0.88.
×
These findings replicate and extend those of Schubö et al. (
2001
) for the overlapping motion/movement dimension of direction. Moreover, this CE was obtained with constant stimulus motion velocity profiles, which demonstrates that interference effects of this type are not contingent upon the processing of biological motion, in contrast to what has been previously suggested in the context of similar tasks (e.g., Kilner et al.,
2003
).
The time course of the CE is captured in Fig.
2
b, which presents the mean difference in
y
position between the trajectories produced under upward and downward stimulus conditions as a function of normalized time. As indicated by the shaded region in the figure, the trajectories began to significantly diverge from each other at 17% of normalized time. This value corresponds to a mean absolute time of 339 ms after movement onset and 569 ms after stimulus motion onset (as computed on the basis of the mean movement initiation and movement times for the upward and downward stimulus directions). As one would expect, the CE takes time to reveal itself in the movement trajectories.
These results demonstrate that CEs of this type generalize to the overlapping dimension of direction and are not confined to the processing of biological motions. However, in contrast to what might have been expected on the basis of related studies (e.g., Whitney et al.,
2003
), no evidence of an AE of motion perception on movement production was observed.
Experiment 2
The goal of "
Experiment 2
" was to alter the current paradigm in such a way that an AE, if at all present, would have better chances of being revealed. One reason why no AE was observed in "
Experiment 1
"or in previous studies (Schubö et al.,
2001
) is that participants may have attempted to counteract this (anticipated) attraction effect. Indeed, given that participants were instructed to reproduce the previously seen motions as accurately as possible, they may have tried to adjust the direction of their trajectories in order to avoid moving in the direction of the stimulus motion. In addition, the movements were performed relatively slowly and the stimulus motion started on average ∼230 ms prior to movement onset. Thus, participants would have had enough time to perform such adjustments (e.g., Desmurget & Grafton,
2000
; Paillard,
1996
). This possibility actually suggests that the CEs may be strategic in origin, an issue we return to in "
General discussion
"
.
To maximize the chances of revealing a (potential) AE, the paradigm used in "
Experiment 1
" was first modified by shortening the stimulus motion duration and target movement duration from 2,000 to 500 ms. By increasing movement speed, larger distances will be covered by the participants prior to the time at which they could try to counteract any anticipated or perceived interference effects. This should provide a larger spatial window for detecting an AE. The second modification involved having the stimulus motion start with movement onset. In this way, participants could never see in which direction the stimulus was moving prior to initiating their own movement, which should eliminate the possibility of engaging in counteractive adjustments early in the movement trajectories.
Method
A new group of 20 individuals (mean age = 24.50 years; age range = 17−34 years) participated in the experiment. The method was identical to that of "
Experiment 1
", except for two changes. First, the stimulus motion duration and the target movement duration were reduced to 500 ms (see Fig.
1
b). Because the length of the stimulus trajectories was the same as in "
Experiment 1
", stimulus velocity was accordingly increased to 40 cm/s (i.e., 37.84°/s). Second, participants self-initiated the onset of movement recording and stimulus motion (for the second subtrial). As before, after having held the cursor in the start position for 1 s, the first tone sounded. This indicated to the participants that they could initiate their movement whenever they felt ready. As soon as they left the start position, the cursor disappeared, the stimulus was set into motion (on the second subtrial only), and the tablet recording started and lasted for 1 s. Because movement recording began with movement onset, there are no movement initiation times to report.
Results and discussion
General discussion
The aim of this study was to further our understanding of specific interactions between perception and functionally unrelated ongoing action. Participants were asked to move one of their hands (without visual feedback) in a certain direction while concurrently observing a stimulus motion of a (dis)similar direction. The results of "
Experiment 1
" revealed a CE, in that having watched, for example, an upward motion led to a lower movement endpoint than having watched a downward motion. This finding generalizes those of Schubö et al. (
2001
) to (a) the overlapping motion/movement dimension of direction and to (b) the use of non-biological stimulus motions. The latter finding is of interest because previous studies often relied on the presentation of biological stimulus motions (see also Kilner et al.,
2003
), which are known to be processed differently than motions with biological velocity profiles (e.g., Viviani,
2002
). What is more, interference effects obtained in similar paradigms have been attributed to the involvement of the motor system in the visual processing of biological motion (e.g., Kilner et al.,
2003
). The present results suggest that this is not necessarily the case.
With higher speed stress and no advance information pertaining to the direction of stimulus motion, the CE of "
Experiment 1
" was replicated in "
Experiment 2
". This time, however, two additional effects were observed. First, movement times were slower under incompatible motion/movement direction conditions, which resembles the response slowing that is generally observed under spatially incompatible S–R relationships in reaction-time tasks (e.g., Simon,
1990
). The second novel effect to arise in "
Experiment 2
" was an AE in the initial portions of the movement trajectories. This result was to be expected based on the facilitation effects that have generally been observed in continuous S–R compatibility tasks (e.g., Chua & Weeks,
1997
; Keller & Burnham,
2005
; Michaels & Stins,
1997
). The absence of these two effects in "
Experiment 1
" could be related to the fact that that movement onset was preceded by stimulus motion onset and/or to the use of relatively lenient movement speed constraints in that experiment. Both of these factors should have reduced participants' ability to engage in compensatory movements aimed at countering any anticipated or perceived interference effects.
More generally, the present results revealed a bi-phasic pattern of interference of perception on ongoing action: initial assimilation followed by contrast. There are two main lines of theoretical thinking that could account for these effects. The first holds that the AE and CE are reflections of
sensorimotor adjustments
that are made on the basis of perceived discrepancies between motor-specific sensory predictions and incoming sensory feedback. The second line of thinking attributes these effects to the
activation and inhibition
of the representations underlying perception and/or action.
Sensorimotor adjustments
The AE was observed after an interval (∼110 ms) that is consistent with other estimates of fast visuomotor delays (e.g., Brenner & Smeets,
1997
; Desmurget & Grafton,
2000
; Whitney et al.,
2003
). Among the various types of tasks employed to estimate such delays, the study of Whitney et al. (
2003
) is particularly relevant here. They reported that when people try to reach as quickly as possible to a briefly flashed stationary target in the presence of an unrelated moving grating, they initially move their hand in the direction of motion. They took this AE as evidence of an adaptive visuomotor mechanism that rapidly alters hand trajectories under conditions of perceived ego-motion. Since retinal motion is most often associated with eye and head movements, they argued that the background (i.e., grating) motion could have induced an illusory sense of ego-motion. Thus, for example, upward motion would (normally) be associated with downward eye/head movements (and a perceived downward sense of ego-motion), which would result in an upward adjustment of the hand trajectory. Although their task was in many ways different than that employed in the current study, their interpretation could be applied here as well. Nevertheless, it is unclear whether the stimulus motions in the current study were sufficient to produce the type of ego-motion that may have been induced by the moving grating in Whitney et al.
The CEs were observed in later portions of the trajectories, ∼260 ms after movement/motion onset at the earliest. This delay is consistent with the time it takes to engage in voluntary visuomotor adjustments (e.g., Desmurget & Grafton,
2000
; Paillard,
1996
). One interpretation of the CE is that, despite having been told otherwise, participants may have considered the trajectory they observed as a consequence of the movement they executed. If this was the case, they may have attempted to correct for the perceived discrepancy between the trajectory they wanted to produce and the trajectory they thought they were actually producing. The fact that participants can correct online for visual perturbations of hand trajectories is well documented (e.g., Fourneret & Jeannerod,
1998
).
There are, however, a number of reasons why this interpretation seems unlikely. For one, we employed three spatially distinct straight-line stimulus motion trajectories that had velocity profiles uncharacteristic of biological movements. Furthermore, the motions started on average ∼230 ms prior to the movements in "
Experiment 1
", thereby preceding any overt motor activity. Lastly, to rule out this account of the CE, Schubö et al. (
2001
) performed another experiment in which the stimulus and movement for a given trial were staggered in time by up to 500 ms, such that it became highly unlikely that the observed motion represented the sensory consequence of the movement that was being performed. Under such conditions, a CE was nonetheless obtained. Although, we cannot fully rule out this account, the similarity between the CEs observed by Schubö et al. (
2001
) and ourselves further suggests that this is not the primary mechanism at work.
An alternative type of adjustment that could have produced the CE is more "strategic" in nature. Specifically, participants may have become aware of their tendency to show an AE (independently of its origin) and voluntarily engaged in compensatory movements that ultimately lead to a CE. Given the plausibility of this explanation, an object of future research should be to systematically assess participants' awareness of any signs of interference and determine whether it is systematically related to the presence of the CE.
Activation and inhibition
As it stands, however, both sensorimotor-adjustment and activation-inhibition accounts seem to provide viable explanations, in isolation or combination, of the basic effects obtained in this study. Thus, additional work will be needed to better establish the origins of the bi-phasic pattern of specific interference. For example, one could compare the nature and time course of the interference effects obtained with moving and static stimuli, such as the appearance of a line or arrow. The latter type of stimuli should no longer induce a sense of ego-motion and would therefore allow one to test whether this sense is actually what underlies the AE reported here.
Acknowledgments
We would like to thank three anonymous reviewers for constructive comments, Eric Grosjean for valuable advice on the data analysis, Wilfried Kunde for providing code to collect data from the graphics tablet, Fiorello Banci for technical support, and Silvia Bauer and Cornelia Maier for assistance with running the participants.
Footnotes
1
Cubic spline interpolation was used because of the curvature present in the hand trajectories and the fact that it incurs smaller errors (on average) than other forms of interpolation (e.g. linear). However, to be certain that the results did not depend on this particular form of interpolation, the same analyses were also performed using linear interpolation. When conducted in this way, the analyses did not yield any differences in the overall pattern of results.