08-09-2016 | Uitgave 2/2017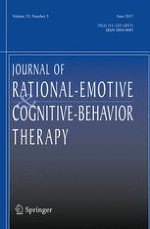 Acceptance in Cognitive Behavioral Psychotherapies: Different or the Same?
Auteurs:

Karol J. Wild, Bianca Macavei, Delia M. Podea
Abstract
Acceptance is a key construct in both rational emotive behavior therapy (REBT) and acceptance and commitment therapy (ACT). The objectives of this study were to assess and compare the properties of ACT acceptance with those of REBT acceptance in predicting emotions. A sample of 112 subjects, comprising different educational and occupational status, completed three measures of acceptance (REBT and ACT), two of mindfulness, as well as completing depression and anxiety scales. Both ACT acceptance as process and REBT acceptance could predict significant ACT acceptance as outcome. Mindfulness as a trait also predicted the level of ACT outcome acceptance as well as the level of REBT acceptance, but mindfulness as process predicted only ACT outcome acceptance. The results show that REBT acceptance, ACT acceptance and mindfulness can explain anxiety and depression in different ways. The results show that the difference between ACT acceptance and REBT acceptance primary concern the process of acceptance, most likely due to the underlying cognitive processing. The outcome acceptance and emotional level are similar in the two conditions. Future research should employ multiple cognitive measurements.