01-07-2015 | Original Paper | Uitgave 7/2015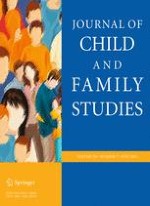 ABC for Parents: Pilot Study of a Universal 4-Session Program Shows Increased Parenting Skills, Self-efficacy and Child Well-Being
Tijdschrift:
Auteurs:

Pia Enebrink, Maja Danneman, Valeria Benvestito Mattsson, Malin Ulfsdotter, Camilla Jalling, Lene Lindberg
Abstract
The aim of the present pilot study was to provide an initial evaluation of a brief, 4-session, universal health promoting parenting group program, the "ABC". We examined the effects of the program on improving parental strategies, parental self-efficacy, and child well-being. We also hypothesized that in a health promoting intervention implemented in the general population, increased parental self-efficacy and parental strategies would be associated with improvements in child well-being after 4 months. Parents living in 11 municipalities and local community agencies in Sweden enrolled in the project were invited to participate in the study. A repeated measurement within group design was used to assess the effects. In total, parents of 104 children aged 2–12 years participated in the ABC-study. Parental and child outcomes were evaluated before, after the intervention, and at a 4-month follow-up with parental self-report questionnaires. Paired
t
tests and ANOVA repeated measures showed statistically significant improvements of parental strategies (showing guidance, empathy/understanding, having rules/boundaries), parental self-efficacy (self-competence, knowledge/experience), and child well-being (emotional well-being, independence) from pre- to post measurement, with small to moderate effect sizes. Improvements were maintained at the 4-month follow-up, apart from changes in parental knowledge. University education and increased pre- to post improvements in self-efficacy predicted child emotional well-being at the 4-month follow-up. The findings suggest that the ABC-group intervention was effective in terms of improving child well-being, parental strategies and self-efficacy. This pilot study provides promising evidence for the ABC as a universal parenting program but further more rigorous evaluations are needed.