19-01-2017 | Uitgave 1/2017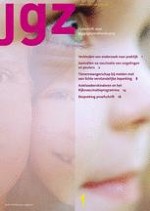 Aanvallen na vaccinatie van zuigelingen en peuters
Tijdschrift:
Auteurs:

W. J. A. Hilgersom, A. A. W. van Boekel, H. C. Rümke
Samenvatting
Na vaccinaties kunnen zuigelingen aanvallen hebben die soms als stuip worden aangeduid. Sommige zijn inderdaad epileptische aanvallen zoals koortsstuipen en andere convulsies, maar vaak gaat het om niet-epileptische aanvallen met beweging zoals myoclonieën, tremoren, of plotselinge vreemde houdingen, of aanvallen van vasovegetatieve aard zoals syncope, collaps, apneu-aanvallen, ALTE (
apparent life threatening event
)/BRUE (
brief resolved unexplained events)
, en BHS (
breath-holding spells)
. Dit artikel beschrijft aanvallen die bij jonge kinderen kunnen optreden en hoe vaak ze van 2011 tot en met 2015 bij het Bijwerkingencentrum Lareb zijn gemeld als mogelijke bijwerking van een vaccinatie. Koortsstuipen worden vooral gemeld in associatie met de BMR-vaccinatie. Collapsreacties ('wit, slap, weg') worden vooral gemeld bij jonge zuigelingen, tussen 2 en 12 uur na vaccinatie, de meeste na de vaccinaties op 2 maanden. De meldingen van non-febriele epileptische aanvallen tonen geen duidelijk tijdspatroon na de vaccinaties. Uit epidemiologische onderzoeken blijkt evenmin een relatie. Wel kan bij kinderen met een genetische aanleg voor epilepsie, een epileptische aanval door een vaccinatie worden uitgelokt. Uit onderzoek blijkt dat vaccinaties het beloop van de epilepsie niet negatief beïnvloeden.
Aanvallen na vaccinaties kunnen er dramatisch uitzien, maar gelukkig is de herhalingskans klein en de prognose goed.