16-11-2015 | Artikel | Uitgave 4/2015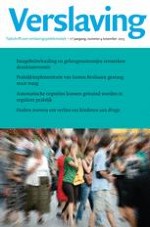 Aanpak van overmatig alcoholgebruik onder volwassenen in een RCT
Tijdschrift:
Auteurs:

PhD Britt van Lettow, PhD Hein de Vries, PhD Alex Burdorf, PhD Brigitte Boon, PhD Pepijn van Empelen
Samenvatting
Met een gerandomiseerd onderzoek (RCT) onder volwassenen uit de Nederlandse bevolking werd onderzocht of twee strategieën kunnen bijdragen aan het effect van een online advies-op-maatprogramma (drinktest.nl) om alcoholgebruik te verminderen. De toegevoegde strategieën waren:
a
het veranderen van drinkerimago's, en
b
het gebruik van een geheugensteun. Een drinkerimago is het beeld dat mensen hebben van typische drinkers. Dit beeld werd veranderd door mensen te motiveren om afstand te nemen van het negatieve imago van overmatige drinkers, en het positieve imago van matige drinkers na te streven. Enerzijds kan de geheugensteun mensen helpen herinneren aan de inhoud van het programma en anderzijds aan welke imago's zij willen vermijden of nastreven. Overmatig drinkende deelnemers (
N
 = 2.634) werden verdeeld over vier condities: originele drinktest.nl, drinktest.nl plus imagoverandering, drinktest.nl plus geheugensteun, drinktest.nl plus imagoverandering en geheugensteun. Verandering over tijd in alcoholgebruik, bereidheid om te drinken (zoals openstaan voor risicogedrag) en voornemens werden getoetst met longitudinale multilevelanalyses. Missende waarden werden volgens de 'last observation carried forward'-methode behandeld. Wanneer imagoverandering (
B
 = −0,15,
p
 < 0,05) of een geheugensteun (
B
 = −0,15,
p
 < 0,05) naast drinktest.nl werd aangeboden, dronken deelnemers minder dan wanneer deze strategieën niet bij drinktest.nl werden aangeboden. Er werden geen significante effecten gevonden voor voornemens of bereidheid. Ook werden er geen interactie-effecten gevonden. Imagoverandering en een geheugensteun kunnen bruikbare en simpele aanvullende strategieën zijn om overmatig alcoholgebruik onder volwassenen te verminderen.