Gepubliceerd in: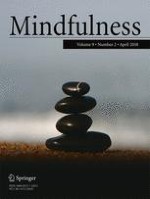 20-09-2017 | REVIEW
A Systematic Review of the Efficacy of Interventions that Aim to Increase Self-Compassion on Nutrition Habits, Eating Behaviours, Body Weight and Body Image
Gepubliceerd in: Mindfulness | Uitgave 2/2018
Log in om toegang te krijgen
Abstract
Overweight and obesity are universal health challenges, with behavioural weight management often failing to produce long-term effects. Various psychological factors, including body dissatisfaction and disordered eating, have been linked to weight gain overtimes. However, the majority of weight loss interventions do not address these aspects. Additionally, there has been a growing interest in the potential benefits of self-compassion as a new approach to promoting both physical and mental health. This systematic review investigated the effects of interventions that aim to increase self-compassion on obesity and weight-related psychological conditions. Four electronic databases were searched using terms adapted from previous systematic reviews on nutrition and body weight, self-compassion, eating disorders and body image. This review was conducted using the PRISMA guidelines for systematic reviewers. The search identified six studies that met eligible criteria for the review. Results indicate that self-compassion can be beneficial for weight loss, nutrition behaviours, eating behaviours and body image. However, the number of studies is limited, and most of the studies have serious limitations. Further research using robust methodologies is needed to determine the efficacy of self-compassion on body weight and related behaviours.