11-01-2021 | Uitgave 1/2021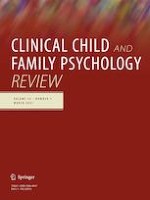 A Systematic Review of Associations Between Adverse Peer Experiences and Emotion Regulation in Adolescence
Tijdschrift:
Auteurs:

Toria Herd, Jungmeen Kim-Spoon
Belangrijke opmerkingen
Publisher's Note
Springer Nature remains neutral with regard to jurisdictional claims in published maps and institutional affiliations.
Abstract
Adolescence is a developmental period marked by changes in cognition, emotion, and social relations. For example, sensitivity to social feedback increases as peer relationships become more important yet less stable, leaving adolescents vulnerable to experiences of peer victimization and rejection. Given that prefrontal brain regions responsible for regulatory abilities continue to mature during adolescence, the brain is especially susceptible to environmental influences. As such, exposure to adverse peer experiences may undermine emotion regulation development. Thus, the present review sought to elucidate the association between adverse peer experiences and emotion regulation in adolescence (i.e. age 12–17 years). Following the Preferred Reporting Items for Systematic Reviews and Meta-Analyses (PRISMA) guidelines, a systematic review of the literature assessing adverse peer experiences (victimization and rejection) and emotion regulation (including neurobiological, behavioral, cognitive levels of analysis) was conducted (
N
articles included
 = 27). Results demonstrate that adverse peer experiences are negatively associated with emotion regulation processes, behaviorally and neurally. Although variability in definitions and measurement of constructs make nuanced comparisons between studies difficult, the present systematic review organizes this body of literature and discusses how promising theoretical perspectives, including the cognitive control of emotion model and social information processing theory, may help to explain this association. Finally, recommendations for future work to expand our understanding of these processes, and for intervention and prevention efforts (e.g., school-based violence prevention and socio-emotional learning programs, parenting practices) that may serve to ameliorate outcomes for youths facing adverse peer experiences and emotion dysregulation, are discussed.