01-09-2012 | ORTHOGONAL ROTATION IN CONSCIOUSNESS | Uitgave 3/2012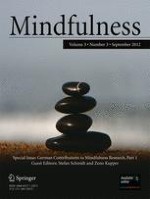 A Serialization of
Coming to Our Senses
Tijdschrift:
Auteur:

Jon Kabat-Zinn
Belangrijke opmerkingen
Editor's note
: Jon Kabat-Zinn has been the driving force and inspiration for much of the work that has been and will be published in
Mindfulness
. He developed and introduced mindfulness-based stress reduction (MBSR) at the University of Massachusetts Medical Center 33 years ago. His work has had a major transformative effect in medicine, psychology, and psychiatry, and continues to impact a diverse range of other areas including education, parenting, and politics, among many others. He is the author of several bestselling books that have been instrumental in transforming the lives of people across the world. In all, his books have been translated in over thirty languages. One of them,
Full Catastrophe Living: Using the Wisdom of your Body and Mind to Face Stress, Pain and Illness
, provides the foundation for training programs in MBSR; another,
Wherever You Go, There You Are: Mindfulness Meditation for Everyday Life
, while written for general readership, has been very popular with therapists who recommend the book to their clients. He recently published
Mindfulness for Beginners
and, with Richard Davidson, edited
The Mind's Own Physician
.I asked Jon to serialize his book,
Coming to Our Senses: Healing Ourselves and the World Through Mindfulness
, and provide periodic commentaries on his current thinking, because the readers of
Mindfulness
will greatly benefit from reading and incorporating these teachings into their own lives. If we are going to transform our world to one that is peaceful and joyous, one where we persistently work at reducing suffering and the causes of suffering, it is important that we begin with our own transformation through a personal practice of daily meditation. Regardless of where we are in our lives or what we have done in our past, our future karmic imprint lies in paying attention to the present. Reading Jon's work can help us all in that practice.
Without Abstract