17-01-2019 | ORIGINAL PAPER | Uitgave 7/2019 Open Access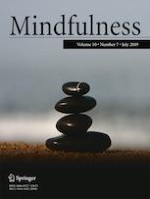 A Randomized Controlled Trial of Awareness Training Program (ATP), a Group-Based Mahayana Buddhist Intervention
Tijdschrift:
Auteurs:

Bonnie Wai Yan Wu, Junling Gao, Hang Kin Leung, Hin Hung Sik
Belangrijke opmerkingen
Publisher's Note
Springer Nature remains neutral with regard to jurisdictional claims in published maps and institutional affiliations.
Abstract
Objectives
This study evaluated the effectiveness of a Mahayana Buddhist teaching- and group-based intervention, the Awareness Training Program (ATP), which is textually aligned to a Mahayana
Sūtra
so that its theory and practice are coherent. The ATP aims to alleviate stress by enhancing participant's compassion and wisdom of nonattachment.
Methods
Middle-aged working adults (
n
 = 122) in Hong Kong participated in this randomized waiting-list controlled trial. Self-reported psychological questionnaires were used to assess the participants' level of stress (PSS), sense of coherence (SOC), psychological well-being (GHQ), and nonattachment (NAS) at pretest, posttest, and 3 months later.
Results
The data showed significant improvements in the intervention group over the controls for all outcome measures at posttest and 3 months later (post and post-3 PSS: ηp 2 = .15 and .16; post and post-3 SOC: ηp 2 = .05 and .10; post and post-3 GHQ: ηp 2 = .16 and .13; post and post-3 NAS: ηp 2 = .17 and .14). A mediation analysis demonstrated that nonattachment mediated both the treatment and the maintenance effects for all outcome variables (post and post-3 PSS: indirect effect ab = − 1.50 and − 1.70; post and post-3 SOC: ab = 2.48 and 3.61; post and post-3 GHQ: ab = − 1.65 and − 1.56; bootstrap 95% confidence interval (CI), CI does not include zero).
Conclusions
The ATP may effectively reduce stress and improve a sense of coherence and psychological well-being by enhancing participants' wisdom of nonattachment. This study provides promising evidence that the ATP could be an effective intervention for middle-aged working adults.