Gepubliceerd in: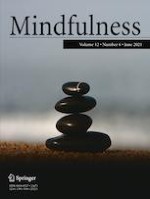 12-03-2021 | ORIGINAL PAPER
A Randomized Controlled Trial Examining a Second-Generation Mindfulness-Based Intervention that is Compatible with Confucian Values: Mindfulness-Based Positive Psychology
Gepubliceerd in: Mindfulness | Uitgave 6/2021
Log in om toegang te krijgen
Abstract
Objectives
Second-generation mindfulness-based interventions (SG-MBIs) have emphasized the cultivation of ethics. However, some ethics and values that are emphasized in SG-MBIs are criticized by Confucianism, one of the most influential traditions in China. The current study developed a new SG-MBI called mindfulness-based positive psychology (MBPP) that emphasized value clarification and integrated Confucian values. The acceptability and effects of this intervention were evaluated among Chinese people in mainland China.
Methods
A total of 138 healthy Chinese adults from universities and communities were randomly assigned to the MBPP or waitlist condition. Consistent with the "relief," "promotion," and "transcendence" modules in MBPP, variables representing negative symptoms (depression, anxiety, and stress), positive traits (gratitude and appreciative joy), and spirituality (meaning of life) were measured before and after the 6-week intervention and 3 months after the intervention. The amount of meditation practice and ratings for MBPP and different themes were also measured.
Results
Compared to the waitlist condition, MBPP significantly reduced anxiety and stress with low to medium effect sizes but not other measures. The amount of meditation practice during the intervention was significantly associated with changes in appreciative joy and gratitude. Participants rated the MBPP and themes highly, and themes in the "transcendence" module received significantly lower ratings than other themes.
Conclusions
MBPP is a feasible and promising SG-MBI for promoting mental health among Chinese. Future studies should further evaluate the acceptability and effects of the new components of SG-MBIs and develop suitable measurements for those idealistic mentalities proposed by Buddhism and other traditions.