28-04-2017 | ORIGINAL PAPER | Uitgave 5/2017 Open Access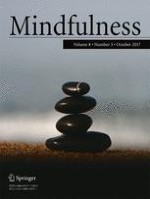 A Randomized Controlled Pilot Intervention Study of a Mindfulness-Based Self-Leadership Training (MBSLT) on Stress and Performance
Tijdschrift:
Auteurs:

Juliane Sampl, Thomas Maran, Marco R. Furtner
Introduction
Method
Results
Discussion
Limitations and Directions for Future Research
This study shows the effects on stress and test anxiety levels, as well as on academic self-efficacy and performance. Nevertheless, there are some points that have to be discussed critically: First, even though the pilot study examines the great potential in the academic context, results are limited, as we are not able to examine whether effects originated from mindfulness, self-leadership, or the combination of both. We propose that mindfulness might enhance the effects of self-leadership on different outcomes; however, the mechanisms on how both constructs interact and their additive effects remain only theoretical. As such, we are not able to determine if mindfulness and self-leadership or the combination of both is the most significant factor in reducing stress, test anxiety, and improving self-efficacy or grades. Therefore, we suggest for further studies to examine the holistic effects of the MBSLT compared to an isolated mindfulness and self-leadership intervention and a control group using similar outcomes.
Second, the generalizability concerning the average student population may be limited, as students who participated voluntarily were probably specifically attracted to stress prevention and achievement-related tasks. However, this setting ensured a high level of ecological validity as the training was conducted in a real-world situation during the semester and university students with a subjectively perceived need could join the training.
Third, to meet students' needs, the intervention was constructed to be easily incorporated into an average student's life. The randomized design prevented the possibility that bias might be introduced by differences in starting values between intervention and control group. The random allocation to either an intervention or a control group enabled us to compare the effects of our intervention to those of a waiting list group which increased the expressiveness of our findings. Particularly, the use of an objective criterion for measuring the academic performance as an effect of the executed MBSLT is a distinctive feature of the present study. Nevertheless, because of a limited amount of studies that focused explicitly on the same outcomes (grades, stress, test anxiety, self-efficacy, mindfulness, and self-leadership), comparability is restricted. As such, our study only provides a relative comparison to other mindfulness and self-leadership interventions. It would be desirable for further studies to examine the effects on academic grades in order to compare the MBSLT with studies that applied only a self-leadership or mindfulness-based intervention.
Fourth, in order to analyze the supposed mindfulness maintaining and stress-attenuating function of the MBSLT, we would recommend a further examination of the effects of the MBSLT in a context where external stressors and ascendancies remain mainly stable over the study period. Even though the study revealed great effects on several outcomes over time, the study design does not allow us to make any statements about medium- and long-term effects. Our training was time-efficient and economical; however, effects on outcomes might be improved by conducting the MBSLT for a longer period of time. To analyze longitudinal effects of how the MBSLT might prevent future stressors from arising, follow-up measures after 6 and 12 months on stress and grades should be explored for further research. Finally, we suggest transferring the promising findings of the present study to a broader context to assess the effects of the mindfulness-based self-leadership training in different domains (e.g., clinical setting, military, management, industry, sports).
The results clearly demonstrate the positive outcomes of the new combination of mindfulness and self-leadership: enabling participants to promote both academic performance and psychological states in the same time span as former interventions that separated mindfulness and self-leadership (Khoury et al.
2015
; Lucke and Furtner
2015
). It is remarkable that the positive effects on academic performance could be confirmed with objective data by comparing the GPA (Hall
1999
), demonstrating that the MBSLT is a high potential training as a tool to succeed within high-stress academic environments. The new intervention gives advice on how to integrate the practice in daily life in order to improve a broad variety of outcomes with only one intervention. As students seem to need a specific intervention, the MBSLT is sensitive to process dynamics and stress peaks (Regehr et al.
2013
; Tang et al.
2007
). The MBSLT is a promising approach concerning the combination of mindfulness and self-leadership in real-life educational pressure settings. The MBSLT is ready to be applied, further examined, and verified in different contexts.
Acknowledgements
Open access funding provided by University of Innsbruck and Medical University of Innsbruck. Juliane Sampl, M.Sc, was supported by a scholarship grant from the foundation of the University of Innsbruck.
Compliance with Ethical Standards
Conflict of Interest
The authors declare that they have no conflict of interest.
Ethical Approval
All procedures performed in studies involving human participants were in accordance with the ethical standards of the institutional and national research committee and with the 1964 Helsinki declaration and its later amendments or comparable ethical standards. The manuscript does not contain clinical studies or patient data.
Informed Consent
Informed consent was obtained from all individual participants included in the study. Details that might disclose the identity of the subjects under study have been omitted.
Open Access
This article is distributed under the terms of the Creative Commons Attribution 4.0 International License (http://creativecommons.org/licenses/by/4.0/), which permits unrestricted use, distribution, and reproduction in any medium, provided you give appropriate credit to the original author(s) and the source, provide a link to the Creative Commons license, and indicate if changes were made.