14-02-2019 | Original Article – Design Study Article | Uitgave 4/2019 Open Access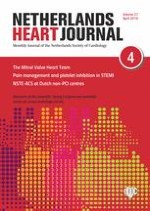 A randomised, investigator-initiated, clinical trial of the effects of fentanyl on P2Y12-receptor inhibition in patients with ST-elevation myocardial infarction who are pre-treated with crushed ticagrelor: rationale and design of the Opioids aNd crushed Ticagrelor In Myocardial infarction Evaluation (ON-TIME 3) trial
Tijdschrift:
Auteurs:

A. H. Tavenier, R. S. Hermanides, J. P. Ottervanger, S. Rasoul, R. J. Slingerland, R. Tolsma, S. van Workum, E. Kedhi, A. W. J. van 't Hof
Abstract
Background
Fast and accurate platelet inhibition is an important therapeutic goal in the acute treatment of patients with ST-elevation myocardial infarction (STEMI). Platelet inhibitory effects induced by oral P2Y12-receptor antagonists are delayed in STEMI patients undergoing primary percutaneous coronary intervention (PCI) due to haemodynamic changes and delayed gastro-intestinal absorption. Concomitant use of opioids, although recommended in the American College of Cardiology/American Heart Association and European Society of Cardiology STEMI guidelines, further delays gastro-intestinal absorption. To date, trials investigating alternative analgesics in STEMI patients have been scarce. This trial aims to assess the feasibility of a novel drug strategy for treatment of STEMI patients with crushed ticagrelor in combination with paracetamol (acetaminophen) instead of opioids.
Hypothesis
STEMI patients who are pre-treated with crushed ticagrelor and paracetamol have a higher level of platelet inhibition after primary PCI than patients pre-treated with crushed ticagrelor and fentanyl.
Study design
The Opioids aNd crushed Ticagrelor In Myocardial infarction Evaluation (ON-TIME 3) trial is a randomised controlled trial designed to examine whether administration of paracetamol instead of fentanyl can optimise platelet inhibition in STEMI patients who are pre-treated with crushed ticagrelor in the ambulance. One hundred and ninety patients with STEMI will be randomised (1:1 fashion) to intravenous (IV) fentanyl or IV paracetamol. The primary endpoint is the level of platelet reactivity units measured immediately after primary PCI.
Summary
The ON-TIME 3 trial (NCT03400267) aims to achieve optimal platelet inhibition and pain relief in STEMI patients receiving crushed ticagrelor in the ambulance by investigating IV fentanyl and IV paracetamol as analgesics.