01-12-2012 | Uitgave 4/2012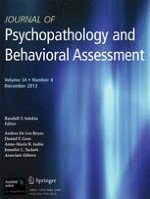 A Prospective Investigation of Changes in Avoidant and Active Coping and Posttraumatic Stress Disorder Symptoms among Military Veteran
Auteurs:

Matthew Tyler Boden, Marcel O. Bonn-Miller, Anka A. Vujanovic, Kent D. Drescher
Belangrijke opmerkingen
This work was supported by a Veterans Affairs Clinical Science Research and Development (CSR&D) Career Development Award—2, as well as a California HIV/AIDS Research Program IDEA Award (163836), granted to Dr. Bonn-Miller
.
The views expressed here are those of the authors and do not necessarily represent those of the Department of Veterans Affairs.
Abstract
The present investigation utilized a prospective design to investigate associations between changes in self-reported avoidant and active coping occurring during residential treatment for posttraumatic stress disorder (PTSD) and PTSD symptom severity at treatment discharge. Participants were 636 military Veteran patients (91.4 % male;
M
age
 = 51.7 years) admitted to a Veterans Affairs (VA) residential rehabilitation program for PTSD, between 2000 and 2008. Results indicated that increases in avoidant coping and decreases in active coping from treatment intake to discharge were simultaneously and incrementally predictive of total PTSD symptom severity at treatment discharge, after accounting for PTSD symptom severity at treatment intake. These findings hold particular relevance for treatment-seeking populations with severe PTSD and researchers and clinicians attempting to understand and treat these populations.