Gepubliceerd in: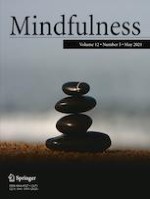 06-01-2021 | ORIGINAL PAPER
A Preliminary Investigation on the Effectiveness of Compassionate Mind Training for Students with Major Depressive Disorder: a Randomized Controlled Trial
Gepubliceerd in: Mindfulness | Uitgave 5/2021
Log in om toegang te krijgen
Abstract
Objectives
High self-criticism and a low self-reassurance and self-compassion have found to play a key role in the development of college students' depressive symptoms. The current pilot study was conducted in Iran with the aim to evaluate the effectiveness of an 8-session outpatient compassionate mind training (CMT) on symptoms of depression, anger rumination, self-criticism, self-compassion, and fear of compassion in students diagnosed with major depressive disorder.
Methods
All participants (30 women, age range: 21–29 years) fulfilled criteria for major depression and were randomly assigned to CMT (
n
= 15), or a no-treatment control group (
n
= 15). The treatment group underwent 8 CMT sessions, twice a week. Scores at the Beck Depression Inventory (BDI-II), Anger Rumination Scale (ARS), Forms of Self-Criticizing/Attacking & Self-Reassuring Scale (FSCRS), Fears of Compassion Scale (FOCS), and Self-Compassion Scale (SCS) were used as outcome measures. Assessments were administered pre- and post-intervention.
Results
Effectiveness of CMT was supported by significantly lower post-intervention rates of depression (
F
(1, 28) = 9.02,
p
= 0.006,
η
2
= 0.24), thoughts of revenge, self-hate, and fear of compassion for others in those who received CMT as compared to those in the control group. The CMT group showed also significant increases in self-reassurance and the positive parcel of self-compassion (comprised of self-kindness, common humanity, and mindfulness items).
Conclusions
Results suggest that even a brief (4-week) compassionate mind training could be implemented as an effective intervention for students with major depressive disorder. Further research including a bigger and gender-balanced sample is warranted.