01-10-2014 | Original Paper | Uitgave 7/2014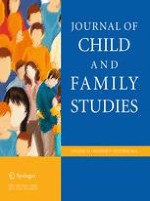 A Multi-informant Approach to Assessing Fear of Positive Evaluation in Socially Anxious Adolescents
Tijdschrift:
Auteurs:

Melanie F. Lipton, Tara M. Augenstein, Justin W. Weeks, Andres De Los Reyes
Abstract
Fears of positive evaluation form important components of social anxiety. Researchers developed the Fear of Positive Evaluation Scale (FPES) to assess these fears. The FPES reliably and validly assesses fears of positive evaluation in undergraduates and adult social anxiety patients. However, it remains unclear if the FPES reliably and validly assesses these fears in clinic-referred adolescents. Further, implementing the FPES in clinical assessments of adolescents likely requires a multi-informant approach. Indeed, long lines of work indicate low cross-informant correspondence in reports of anxiety and anxiety-related constructs, and support the combined use of multiple informants' reports (e.g., parents and adolescents). We examined the FPES in a clinic-referred sample of adolescents aged 14–17 years (
M
= 15.11; 20 females; 59.5 % African American). Thirty-seven parent-adolescent pairs completed the FPES, as well as reports of adolescent social anxiety, safety-seeking behaviors, and depressive symptoms. Both parent and adolescent reports on the FPES evidenced adequate levels of internal consistency. Further, when taking both parent and adolescent reports into consideration, the FPES significantly and positively related to measures of social anxiety and safety-seeking behaviors, over and above other widely used measures of adolescent social anxiety and depressive symptoms. The findings indicate that a multi-informant administration of the FPES yields internally consistent and valid estimates of fears of positive evaluation in a clinical sample of adolescents. These findings have important implications for properly assessing and treating social anxiety concerns in adolescents.