05-06-2020 | Original Article | Uitgave 4/2020 Open Access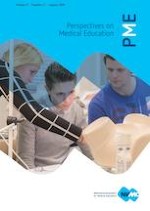 A mobile app to capture EPA assessment data: Utilizing the consolidated framework for implementation research to identify enablers and barriers to engagement
Tijdschrift:
Auteurs:

John Q. Young, Rebekah Sugarman, Jessica Schwartz, Matthew McClure, Patricia S. O'Sullivan
Belangrijke opmerkingen
Electronic supplementary material
Abstract
Introduction
Mobile apps that utilize the framework of entrustable professional activities (EPAs) to capture and deliver feedback are being implemented. If EPA apps are to be successfully incorporated into programmatic assessment, a better understanding of how they are experienced by the end-users will be necessary. The authors conducted a qualitative study using the Consolidated Framework for Implementation Research (CFIR) to identify enablers and barriers to engagement with an EPA app.
Methods
Structured interviews of faculty and residents were conducted with an interview guide based on the CFIR. Transcripts were independently coded by two study authors using directed content analysis. Differences were resolved via consensus. The study team then organized codes into themes relevant to the domains of the CFIR.
Results
Eight faculty and 10 residents chose to participate in the study. Both faculty and residents found the app easy to use and effective in facilitating feedback immediately after the observed patient encounter. Faculty appreciated how the EPA app forced brief, distilled feedback. Both faculty and residents expressed positive attitudes and perceived the app as aligned with the department's philosophy. Barriers to engagement included faculty not understanding the EPA framework and scale, competing clinical demands, residents preferring more detailed feedback and both faculty and residents noting that the app's feedback should be complemented by a tool that generates more systematic, nuanced, and comprehensive feedback. Residents rarely if ever returned to the feedback after initial receipt.
Discussion
This study identified key enablers and barriers to engagement with the EPA app. The findings provide guidance for future research and implementation efforts focused on the use of mobile platforms to capture direct observation feedback.